As count goes on Egypt candidates reach out to rivals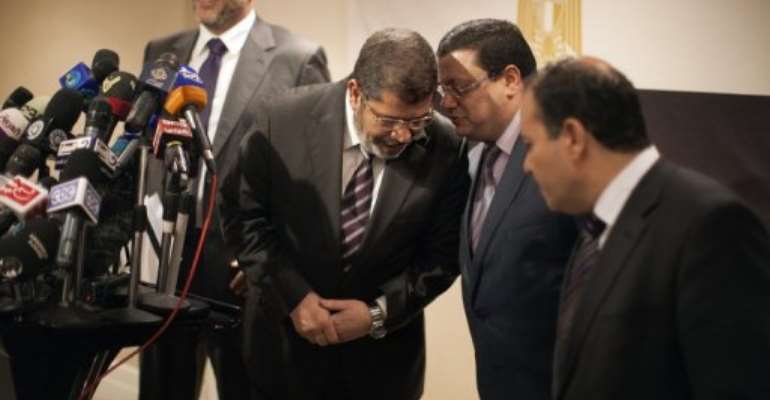 CAIRO (AFP) - As final votes are counted the apparent winners of the first round of Egypt's landmark presidential vote reached out to rival candidates ahead of a June run-off.
Unofficial results suggested that the top two out of 12 candidates were the Muslim Brotherhood's Mohammed Mursi and Ahmed Shafiq, a former premier under ousted Hosni Mubarak.
The Brotherhood called a meeting of various candidates on Saturday afternoon, but the campaigns of Abul Fotouh, former foreign minister Amr Mussa and Nasserist candidate Hamdeen Sabbahi said the three would not attend.
At a news conference later on Saturday, Mursi appealed to Egyptians to pursue the goals of the revolution, a day after his movement said the nation was "in danger."
He said he was confident the results of the June 16 and 17 run-off "will serve the revolution and the interests of the Egyptian people."
He also sought to reassure those who fear a Mursi win would serve the interests of the Muslim Brotherhood ahead of the country.
"As a president, I will be the president for all Egyptians. (My relationship) with the Brotherhood will be the same as all Egyptians," he said.
On Friday night, the Brotherhood said it was seeking to create a coalition of forces to challenge Shafiq.
"We call on all sincere political and national forces to unite to protect the revolution and to achieve the pledges we took before our great nation," it said.
"The slogan now is: 'The nation is in danger'," Essam al-Erian, deputy head of the Brotherhood's political arm, told AFP.
Shafiq also called for broad support from former rivals, calling on his competitors by name to join him and promising there would be no return to the old regime.
"I reach out to all the partners and I pledge that we would all work together for the good of Egypt," he told a news conference.
Addressing young people who spearheaded the 2011 revolt, he said: "Your revolution has been hijacked and I am committed to bringing (it) back."
"I pledge now, to all Egyptians, we shall start a new era. There is no going back."
As the top two candidates worked to rally support for the run-off, leftist candidate Hamdeen Sabbahi, who came third, said he was to file a complaint over alleged voting irregularities in the first round.
"We will file appeals and we will then determine whether or not we accept the results," Sabbahi said.
"It is our right to get a response to our appeals. We will be in the second round, God willing."
"The number of votes we got says the future is open for us: we will continue with the revolution until we reach victory," Sabbahi told a crowd of supporters outside his campaign headquarters in Cairo.
He refused to publicly back either of the two frontrunners, and said he would not accept the number two position in the country.
"I will not accept to be a vice president. You have the right to give your vote to whoever you want, it's up to you to decide," he told the crowd.
A Shafiq-Mursi run-off looks likely to further polarise a nation that rose up against the authoritarian Mubarak 15 months ago but has since suffered endemic violence and a declining economy.
The contest presents a difficult choice for activists who led the revolt against Mubarak. For them, choosing Shafiq would be to admit the revolution had failed, but a vote for Mursi would threaten the very freedoms they fought for.
Independent analyst Hisham Kassem said the situation "is one of the most difficult political situations that Egypt has ever known."
"We face the risk of maintaining the Mubarak regime, or Islamising the country," he told AFP.
Former US president Jimmy Carter, whose Carter Centre monitored the elections, told journalists that the process had been "encouraging" but noted that he and his monitors had faced unprecedented constraints.
"I would say that these (elections) have been encouraging to me," he said, adding that authorities had imposed "constraints placed on us as witnesses that have never been placed on us before."
He said minor "haphazard" violations had been observed, but there did not appear to be systematic irregularities that favoured any one candidate.
Erian said on Friday it was "completely clear" that Mursi and Shafiq had topped the vote and would compete in the June 16-17 run-off.
He said Mursi had won 25.3 percent of the vote and Shafiq 24 percent, with Sabbahi at 22 percent.
Both Mursi and Shafiq had been written off as long shots just weeks before the historic election in which Egypt voted for the first time to elect a president after Mubarak's ouster in a democratic uprising.
The election, with 50 million eligible voters, was hailed by US Secretary of State Hillary Clinton, who congratulated Egypt on its "historic" election and said Washington was ready to work with a new government in Cairo.
Electoral commission officials said turnout was around 50 percent over the two days.
The election follows a tumultuous military-led transition from autocratic rule marked by political upheaval and bloodshed, but which also witnessed free parliamentary elections.
The Supreme Council of the Armed Forces, in power since Mubarak's downfall, has pledged to restore civilian rule by the end of June.