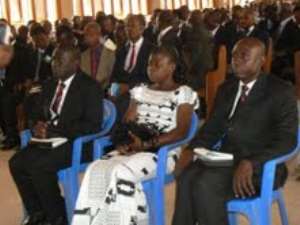 Tamale, May, 26, GNA- Pastor Samuel Adama Larmie, President of the Seventh Day Adventist Church in Ghana, on Saturday urged political leaders to use dialogue to resolve issues of national interest instead of engaging in hate speeches.
He said some of the utterances made in the media do not encourage peace and harmony but could lead to violence and conflicts if not controlled.
Pastor Samuel Larmie was speaking to Journalists on the sidelines of an ordination service held for two pastors at the Northern Ghana Mission of Seventh-day Adventist Church in Tamale.
The two people ordained to join the league of SDA Internationally recognised Ministers are Mr Theophilus Appiah-Mensah and Mr Peter Badu.
Pastor Larmie said politicians should be guided by lessons learnt from troubled nations including Cote' d'Ivoire, Rwanda, Sierra Leone and Sudan which started as a result of negative speech and ethnicity.
He noted that even though there is freedom of speech, there should be the need to promote responsible speech and peace to enhance national development.
On SDA's plans towards peaceful polls, Pastor Larmie disclosed that the Church would soon invite political leaders of the various parties for a retreat.
Pastor Larmie said the church had also printed stickers with peace message which was distributed to the public to remind them on the need to tolerate each other's view to maintain peace.
He advised all Ministers of the gospel especially, SDA pastors to remain neutral and foster unity among their congregation and continue to pray for peace.
Pastor Dr. F. Y Adu-Gyamfi, Ministerial Secretary of Ghana Union Conference, advised the ordained pastors to be humble, respectful and serve God diligently.
He challenged them not to be swayed by pleasures of the world but stick to the tenets of the Holy Bible and win more souls for Christ.
GNA