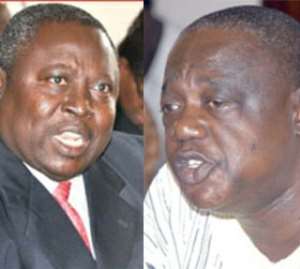 A former Attorney-General and Minister of Justice, Martin Amidu, has descended heavily on the legal team of the ruling National Democratic Congress (NDC), describing members as crooks.
Mr Amidu accused the self-acclaimed legal team of the ruling party of manipulating the system for their professional gains, a development he described as highly unethical.
Mr Amidu, who was given the boot for his determination to retrieve the fraudulent payment of GH¢51.2 million, as judgment debt, to Alfred Agbesi Woyome, a key financier of the ruling party, said the self appointed legal team of the NDC was influencing the office of the Attorney General and the Minister of Justice.
Mr Amidu, who has promised to make a full disclosure about circumstances that led to his ousting from office, said if President Mills was not careful, the so-called legal team of the party would dig his grave.
The Woyome case has suffered several adjournments to the disappointment of political observers.
He wondered why the group still existed and was manipulating the system for its professional gains when indeed he had cautioned the president in one of his meetings before his departure from office.
According to him, when he was in office, the self-acclaimed members of the NDC legal team tried severally to influence him for their professional gains but he refused in the supreme interest of the country.
Advertisement
The seasoned lawyer, whose voice was played on Angel FM, a Kumasi-based radio station on Thursday morning, noted that the behaviour of the NDC legal team was disgusting.
The former minister of Justice and Attorney General further described the attitude of the so-called legal team of the ruling party as unethical.
Mr Amidu said the development was worrying because in the constitution of the ruling party, there was no provision for a legal team but rather a legal committee and could not fathom the basis for the creation of the team.
He emphasized that the members constituting that team were exploiting the system they ought to defend to make money so that they could live comfortable lifestyles.
From Morgan Owusu, Kumasi