Ghana Agricultural Investment Forum Opens in Accra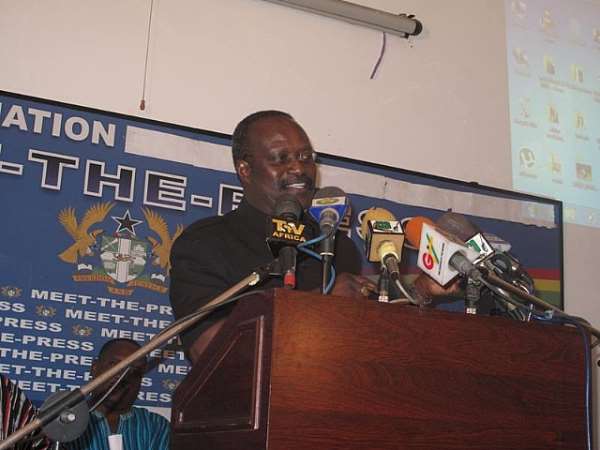 Accra, My 25, GNA – Mr Kwesi Ahwoi, the Minister of Food and Agriculture, has said the government had put in place appropriate structures to improve oversight functions across the entire agricultural value chain including seeds and fertilizer quality control.
He said these include strengthening the policy support systems for farmers, improved seeds, and support programmes to enable farmers benefit more from their investment.
Mr Ahwoi said this in Accra at the opening of the first Ghana Agricultural Investment Forum organized by the Alliance for Green Revolution in Africa (AGRA) as part of activities marking its fifth anniversary.
The forum was aimed at bringing together players in the agricultural value chain to deliberate on how to effectively operationalize African Green Revolution in Ghana.
It also created a platform for discussion of the country's readiness to implement a full-scale agricultural green revolution.
Mr Ahwoi said the objective of the dialogue was to drive the achievements of the green revolution in Ghana to help raise agricultural productivity, food security and increase incomes of millions of farmers.
The Minister said Africa's slow progress towards food security and poverty alleviation had dominated discussions on the global development agenda for a very long time.
He said Africa spends over 50 million dollars annually on food imports and this could rise if efforts were not doubled to increase productivity in the agricultural sector.
He said AGRA had embarked on a vision to make Africa food secure through a range of activities to move agricultural products from input suppliers to farmers fields, and ultimately to consumers table.
Mr Ahwoi said AGRA aims to double agricultural productivity of staple crops by 2015, raise Gross Domestic Product growth by 5.5% annually and lift over 20 million people out of poverty in Africa.
He said although much had been accomplished, there was the need to strengthen the weak infrastructural base in order to achieve the green revolution.
He said it was important to tackle food insecurity and hasten the pace of interventions to impact positively on the teeming population of smallholder farmers.
"We must free succeeding generations of Africans from the shackles of food insecurity and poverty. The lessons from other countries show that it is a battle that can be won, and indeed must be won," Mr Ahwoi said.
Mrs Jane Karuku, President of AGRA, said the forum would provide the platform for key stakeholders to dialogue on Ghana's agricultural strategic objectives development to help achieve food security.
It will also deliberate on the bread basket strategy and approach in Ghana in line with the green revolution agenda.
She said it would also identify the key milestone towards achieving a green revolution in Ghana and opportunities and linkages needed to achieve the Ghana Agricultural Strategic Objectives and the African Green Revolution.
Mrs Karuku reiterated AGRA's commitment to helping millions of small-scale farmers and their families to lift themselves out of the poverty and hunger in Ghana and across Africa.
GNA