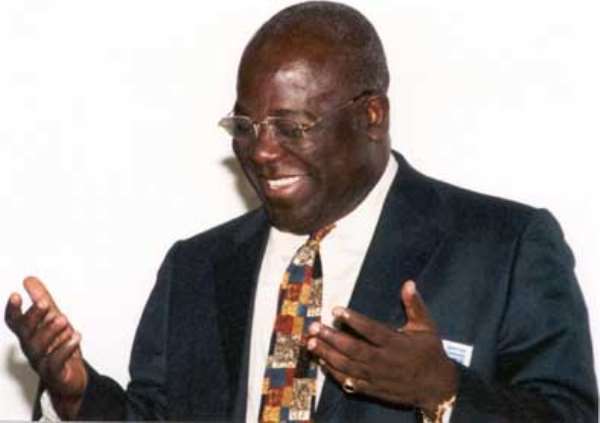 The chief executive of Ghana's Ashanti Goldfields believes the company could be worth more than the two bids currently on the table, but he told a Saturday newspaper the market would ultimately decide.
"I would like to believe that we are undervalued," Sam Jonah told the Saturday Star newspaper.
"Once you are a public company, though, it is the market at the end of the day that decides your value."
South African giant AngloGold and smaller Randgold Resources are vying for control of the Ghanaian gold miner with all-share bids valuing it at $1.3 billion and $1.5 billion respectively by the market close on Friday.
Ashanti's market capitalisation stands at $1.28 billion.
"There are some other factors which would affect value," Jonah told the Saturday Star. "It is not exactly the underlying value of the assets that affects the price."
Analysts say gold mining assets in Africa can be discounted compared with international plays because of the continent's political and infrastructure difficulties.
Ghana, which holds 17 percent of Ashanti and veto rights, has called in Societe Generale as adviser on the bids. Jonah said he was reassured that "business logic will override political considerations."
A source close to the government told Reuters earlier this week the future of Ashanti's massive Obuasi mine, currently employing 9,000 people, may be more important than price in deciding on a winner.
AngloGold, the world's second biggest gold miner, has pledged to invest $700 million in Obuasi, including a plan to extend its lifespan by digging thousands of metres deeper.
Investors have questioned whether Randgold, whose $600 million market capitalisation is dwarfed by AngloGold's $8.2 billion value, has the financial clout or operational expertise to manage Ashanti's Obuasi and other assets.
London-listed Randgold has embarked on a road show to convince investors -- including Ashanti's biggest shareholder Lonmin -- of its case.
Platinum miner Lonmin, which holds 28 percent of Ashanti, initially agreed to the AngloGold bid but now says it will wait for the Ghanaian miner's board to decide. Lonmin has said it would be more interested in cash than paper for its stake.
AngloGold has offered 26 of its shares for every 100 in Ashanti while Randgold has proposed one of its shares for every two Ashanti. AngloGold's stock is more liquid than Randgold's.
Jonah, the only black boss of a gold mining company, said he felt it was important for Ashanti to stay listed in Ghana after any takeover, adding that for himself, "I would prefer Ashanti to stay independent."
But at the end of the day, he added, "the mines based in Ghana contribute to its gross domestic product, so we should not worry about who owns the damn thing; it all belongs to the nation."
Ghana's government has said AngloGold agrees it would continue to hold its veto rights while Randgold has said this "golden share" is not an issue.