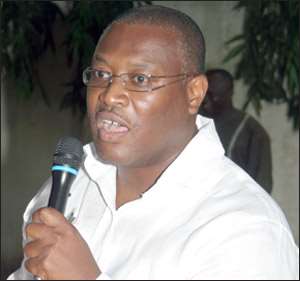 We wish to respond to Mr Alex Segbefia, the Deputy Chief of staff and his lawyers who have put out a statement denying our accusations that he has bought the largest house in Roman Ridge in Accra. We wish to inform all Ghanaians that we stand by our statement and on the 21st of June, 2012 we will hold a press conference at the Teachers Hall in Accra to throw more light and provide documentary and photographic evidence on the corrupt activities of Mr Segbefia, how he bought the said property, the strange circumstances of how he manipulates state institutions to his advantage and his nefarious activities at the Greater Accra Regional Coordinating council. Why has this institution been very quiet? They know what we are talking about!
We wish to assure Mr Segbefia that we are not scared of him and his lawyers and we advise him not to think of using the state machinery to cover his tracks. His reliance on a group of Ghanaian refugees living somewhere in Britain and God knows where else, who claim to be members of his party to be his advocates is laughable and pathetic. These individuals are miles away from Ghana .What do they know about what some of our so called leaders are doing here in Ghana? We chose to disregard their irrelevant comments.
Mr Segbefia must not delude himself to think Ghanaians believe him, after all he is a cheerleader and supporter of a certain Alfred Agbesi Woyome, who is now in court trying to escape a possible prison sentence for fraudulent judgement debt payments.
The Forum for Transparency and Governance once again calls on Mr Alex Segbefia to stand down from his post and for EOCO and the organisations we have requested to investigate his conduct and the issues we have raised. The government must not cover up for Mr Segbefia and his activities. He is not above the law.
Mr Segbefia's so called wig wearers should come again!
If anybody is in doubt then we have another question to ask
Which government official, used public money to bring his Ex- wife from Britain on a British Airways flight on so called holidays here and housed her rent free in a government bungalow at Cantonments in Accra for 3 months in 2011?
Your guess, fellow Ghanaians is as good as ours!
Dr Richard Acolatse(Chairman)
Alhaji Ahmed Gibril Adam Kalilu
Issac Vordzogbe
Nana Obiri Hemang
Mrs Victoria Williams Baffoe
Lawyer Ohemeng Darko
John Nii Abbey Okine
Forum for Transparency and Good Governance
Roman Ridge Accra