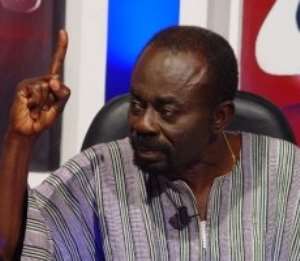 The New Patriotic Party's Kwabena Sarpong believes ex-President Rawlings must apologise to Ghanaians for the acute corruption and crass incompetence they were experiencing under President J.E.A. Mills whom Mr Rawlings helped make a president.
He insists the former president's public expression of frustration at the direction President Mills is steering the country was a clear indication that Mr Rawlings was regretting terribly for helping to put Mills in office as president.
"I don't know what is preventing him from doing what I am going to say; I believe Rawlings wants to tell Ghanaians, 'Ghana, I am extremely sorry, please forgive me for giving you JEA Mills'; that is what Rawlings wants to say," he said on MultiTV's political talk show, Minority Caucus.
Mr Kwabena Sarpong, a member of the NPP communications team, contended the claims by government spokespersons that Mr Rawlings' frustrations have to do with the failure of the Mills administration to jail corrupt NPP government appointees were erroneous.
He said it was rather the corruption in government that was making the former president very mad.
Mr Sarpong said having relentlessly accused the erstwhile NPP government of corruption, Mr Rawlings was hoping the Mills government would run a cleaner government, at least by Mr Rawlings' standards.
But regrettably, the Mills administration, he claimed, failed former President Rawlings spectacularly and frustratingly.
He is bating his breath in expectation of the former president apologizing to Ghanaians.
Mr Sarpong claimed the corruption in the government was so much it was unimaginable.
Story by Ghana l Malik Abass Daabu/Myjoyonline.com