Ultimate Yellow Jersey change hands at Tour of Ghana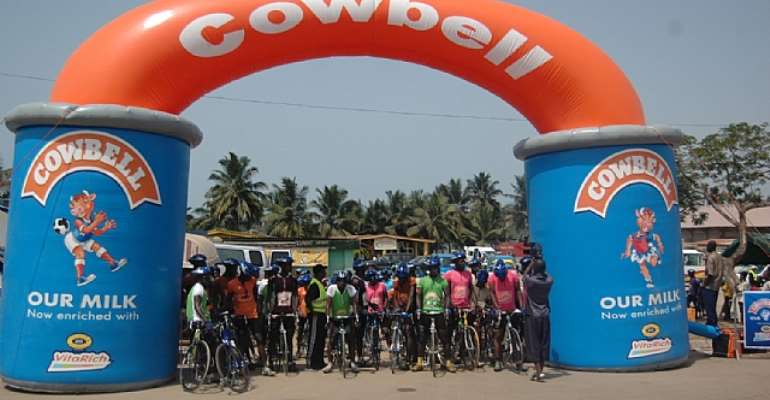 Kumasi, May 23, GNA – The Ultimate Yellow Jersey at the eighth stage of the 2012 Cowbell National Cycling Tour of Ghana change hands at the criterium circuit race in the Kumasi metropolis on Wednesday.
William Nartey of HM Cycling Club took the Yellow Jersey to beat other regular two contestants of the other stages, Sackey and Anim to receive the Best by Time Award in the time of 2.45.13 seconds.
The 61 riders from 12 cycling clubs started the race at Labour - Asafo to the Amakom Roundabout and back to the STC Traffic Light to make an accelerated 35 laps over a distance of 98.4 kilometres.
Samuel Anim of the Young Star Cycling Club won Red and Green Jerseys to receive the Fighter and Best by Time Awards.
Isaac Sackey also of the Young Star Cycling Club took the White Jersey and received the Youngest by Time Award while Die Hard Cycling Club took the Blue Jersey and the Best Team Award.
Newton Kofi of Quick Step Cycling Club came first in the stage classification followed by Samuel Anim of Young Star Cycling Club and William Nartey of HM Cycling Club in that order.
Around the last 21 laps the race was left with only 20 riders after the boys was separated from the men who over-lapped the rest of the 61 riders.
Mr Shaaban Mohammed, Technical Director of the Ghana Cycling Federation explained that the Yellow Jersey change hands due to a difference of just two seconds and it is now a hard and close fight between William Nartey and Isaac Sackey.
Mr Olivier Thiry, Managing Director of Promasidor Ghana Limited producers of cowbell products was on hand to flag the riders for the commencement of the circuit race and was supported by Mr Festus Tetteh, Sales and Marketing Officer of Promasidor as well as DSP Abraham Bansa, Deputy Ashanti Regional MTTU Commander to present trophies, cash and cowbell/BIC products to the deserving winners.
The Cowbell National Tour of Ghana that covers eight regions is being organized by the Ghana Cycling Federation, with sponsorship from Promasidor Ghana Limited, producers of cowbell products, Ministry of Youth and Sports, National Sports Authority, BIC, TV3, MTTU of Ghana Police Service and Multi-Media Group.
GNA