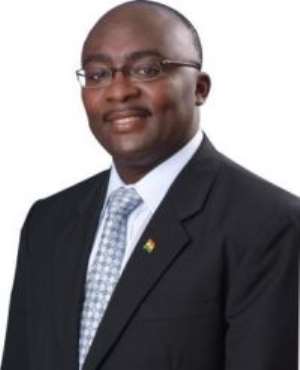 The impact of Mahamudu Bawumia's "State of our Economy" lecture continues to incur the wrath of functionaries of the Mills-Mahama led NDC administration.
Three weeks after failing to answer the fundamental questions raised, the NDC, after unleashing its attack dogs on his personality and failing, sought the help of a South African propaganda firm who are experts in character assassination to develop a comprehensive plan to tarnish and curtail his fast rising popularity.
Within the last three weeks, the NDC government through its former propaganda secretary and now deputy minister of finance and their rented press has thrown every dirt to the extent of even attacking his wife and family with no success.
According to our deep- throat source, in a meeting after the legendary speech at the castle, the government and its propaganda team decided not to engage Dr Bawumia in an intellectual debate on the economy after their "unprecedented" smokescreen was shattered.
It was however agreed that the credibility and personality of Dr Bawumia should be attacked rather than the real issues on why the cost of living was rising, why the cedi was depreciating with a seemingly stable single digit inflation, why the standards in education was falling, why corruption was increasing and why interest rates have not reduced in tandem with single digit inflation.
The South African consultants after three weeks of stay at the plush Movenpick Ambassador hotel at the expense of the poor Ghanaian have completed their recommendation and as part it prescribed a comprehensive character assassination remedy for Dr Bawumia.
According to the consultants, the credibility of the competent economist is a hard one to crack and with his rising popularity and weight on the NPP ticket, deliberate lies and falsehood should be peddled to get him a negative light.
As a start they should use the rented press to get him many negative stories to match his positives.
The NDC propaganda team and their South African consultants will be meeting tomorrow to roll out the attack strategy