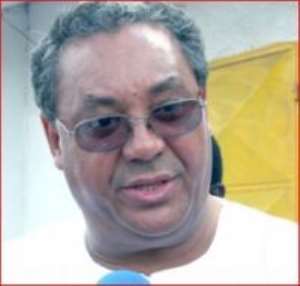 The Supreme Court, presided over by Justice William Atuguba, yesterday dismissed the case of conflict of interest brought against Jake Obetsebi Lamptey, National Chairman of the New Patriotic Party, by two members of government.
According to the court, the plaintiffs had failed to provide sufficient evidence to back their claim of conflict of interest on the part of the defendant.
Deputy Information Minister Samuel Okudzeto Ablakwah and the Deputy Sports Minister Omane Boamah had dragged the NPP Chairman to court over claims that he had attempted to buy a government bungalow he had occupied as a Minister of Tourism in the previous Kufuor led administration.
On May 9, the case which started in 2008 was adjourned and a preliminary ruling for Mr Obetsebi-Lamptey had noted that the plaintiffs should have gone to CHRAJ if they were alleging abuse of office and conflict of interest.
They had among others accused Mr Obetsebi-Lamptey of abusing his office by acquiring a public property for his personal aggrandizement and prayed the court to stop any attempt to acquire the property.
But by a 6-3 majority decision the Supreme Court ruled in favour of the defendant.
They argued the plaintiff failed to prove the conflict of interest allegation it leveled against Jake Obetsebi Lamptey.
Justice Brobbey, one of the judges, indicated that the verdict should not be misconstrued as condoning the practice in which public officers exploit their official positions for private gain.
According to the judge, allegations of conflict of interest and corruption against any public officer must be proven beyond all reasonable doubt.
Both Samuel Okudzeto Ablakwa and Omane Boamah were in court and were not the least enthused by the ruling, Osabutey noted.