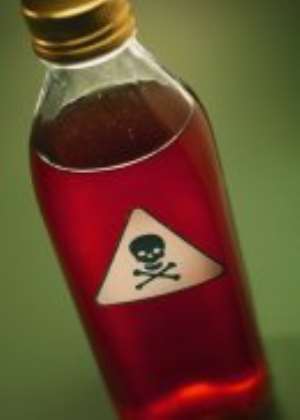 Two persons — a senior technical officer at the University of Ghana Medical School and his friend -- were found dead in a living room in a house at Teiman, near Oyarifa in Accra, in the early hours of Sunday.
Two other men were also found unconscious in the same room in what the police said appeared to be food poisoning.
The four men were said to have eaten a meal of rice and pork stew prepared by the senior technical officer and topped it with an alcoholic beverage while watching the European Champions League final match between Chelsea and Bayern Munich last Saturday.
The deceased — Mr Eric Nai Kwadey, the technical officer, 53, and his friend, Nii Ako Ashong, 59, a farmer resident at Teiman — together with the two younger men, Boye Annang, 33, and Ayi Aryeh, 30, were found lying in the living room in the house about 6 a.m.
According to the Accra Region Police Public Relations Officer, Deputy Superintendent of Police Mr Freeman Tettey, Mr Kwadey's driver, Samuel Tetteh Adama, who happened to be the last person to have seen the four alive, had been picked up to assist in investigations.
He said leftovers of the meal, together with the alcoholic beverage, which were found in the house had been sent to the Ghana Standards Authority for examination.
Mr Tettey said preliminary investigations showed that Mr Kwadey lived in La but he had put up a new house at Teiman where he usually spent the weekends.
He said Mr Kwadey had attended a funeral at Teiman last Saturday, during which he met his old friend, Nii Ashong.
He said after the funeral, the technical officer invited Nii Ashong and the two younger men who normally ran errands for him whenever he visited the village to watch the football match with him.
They arrived at Mr Kwadey's residence just before the match started and they settled down to watch it, while drinking the alcoholic beverage.
At a point, Mr Kwadey left to prepare the meal, and after eating they all went back to continue watching the match.
According to Mr Tettey, nobody really knew what went on thereafter, as the two young men are currently fighting for their lives at the Intensive Care Unit of the Ridge Hospital in Accra.
He said the driver told the police that he decided to go to bed in one of the rooms in the house when Mr Kwadey started steaming the pork for the meal because he (driver) did not like pork.
He woke up the next morning only to see what had happened to the four in the living room and raised an alarm which attracted neighbours to the scene.
Mr Tettey said when the neighbours realised that the two other men were still alive, they rushed them to the Ridge Hospital where they are currently on admission.
The bodies of the deceased have been deposited at the morgue of the same hospital awaiting autopsy.
graphic.com.gh