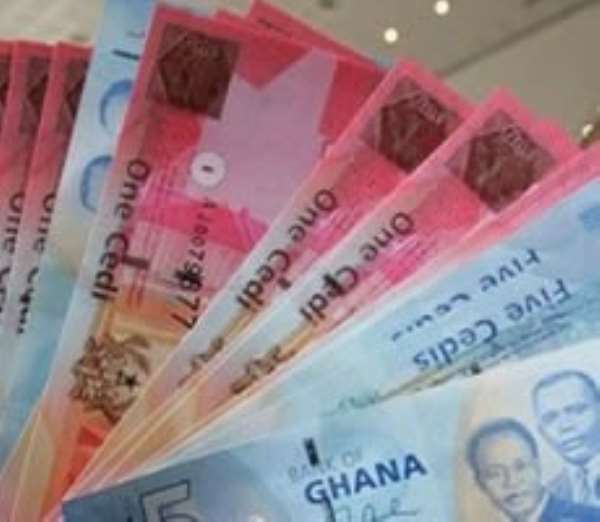 An already beleaguered local private sector is smarting under new higher taxation -- brought on by the rapidly depreciating cedi as well as hidden administrative charges, industrialists have disclosed.
Consequently, a waning of confidence in the economy among CEOs has led to a dip in the Association of Ghana Industries Business Barometer Indicator, to 24.0 in the first quarter of 2012 from 30.0 in quarter four of 2011.
President of the Association of Ghana Industries (AGI), Nana Owusu-Afari, noted that duties on imported raw materials are calculated in US dollars; consequently, with any depreciation in the cedi manufacturers effectively pay more duties even at the same level of duty rates.
Since January this year, the value of the cedi has eroded by over 12 percent against the US dollar.
Presenting the AGI Business Barometer for first quarter of 2012, Nana Owusu-Afari said it is a worrying development that high level of taxation has shot up to the number-one position as the most inhibiting factor to business growth.
High level of taxation was a distant fourth among the top-10 challenges confronting businesses in the last quarter of 2011.
Businesses in Tema, the country's industrial hub, have also complained about a number of administrative fees and charges which were hiked up and further burdened them financially.
"The EPA (Environmental Protection Agency) fees have been raised from GH¢5,000 to GH¢7,500.
"Additionally, we received our withholding tax payback within two to three months previously; now it is over six months and such situations affect our operating cash position, all translating into hidden costs," an industrialist from Tema told B&FT.
"There is a need for discrimination in taxation," Nana Owusu-Afari said, adding that a significant number of local enterprises are at risk without such policy interventions.
"Imported raw materials must not attract taxes as high as imported consumer goods, even if not totally exempted," Nana said, pointing out that it would be a very effective way of addressing the challenge of competition from imported goods, which has maintained seventh position among the top-10 challenges in the last two quarters.
"The Central Bank needs to liaise with other ministries and the Government Economic Management team to craft out long-term solutions that ensure a stable local currency," Nana Owusu-Afari said.
He noted that such long-term solutions should lead to increased local production, especially in agro-processing, to help curb the importation of such consumer goods.
"We need to move away from the erroneous notion that our development is about providing cheap consumer goods to the people, irrespective of where it is coming from. If we don't, the stability of our cedi against foreign currencies will not be assured as more and more of such currencies will continue to be in high demand to support our imports of consumer goods," Nana Owusu-Afari said.
The AGI president also observed that the AGI BBI Q1 2012 report revealed interesting but worrying developments, including the perception in the construction industry that there is unfair award of contracts -- which assumed the position of third most-constraining factor in the industry, just behind a lack of contracts at second among the top-10 challenges.
The manufacturing sector also cited competition from imported goods as the sector's most daunting challenge. In Q4, 2011, that challenge raked seventh.
In the agricultural sector, depreciation of the cedi -- which was never a challenge before -- appeared as the 10th most important barrier to the growth of the industry. The currency's depreciation impacted the sector negatively through high duty paid on agricultural inputs.