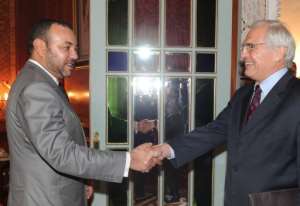 UN special envoy for Western Sahara Christopher Ross (R) is welcome by Morocco's King Mohammed VI in 2010. By (Magreb Arabe Presse/File)
UNITED NATIONS (AFP) - UN envoy on Western Sahara Christopher Ross has called off plans to carry out his first official trip to the disputed territory, the UN said Friday after Morocco launched a strong attack on him.
"There are no plans for Mr Ross to travel to the region at this time," a UN spokesman, Farhan Haq, told reporters.
Ross announced at the end of the last UN-brokered informal talks between Morocco and the Polisario Front guerrillas in March that he would go to the region, including Sahara, in mid-May. Ross has yet to visit the Moroccan-controlled territory.
While no fixed dates had been organized, the trip has been made untenable by Morocco's statement on Thursday that it had lost confidence in Ross. The government said in a statement that the veteran US diplomat's work in the Western Sahara was "unbalanced and biased."
The Moroccan attack came after the last annual UN report on Western Sahara said its operations had been "undermined" by Moroccan tactics.
Morocco seized Western Sahara after Spanish colonists withdrew in 1975. The Polisario Front launched a guerrilla war for a separate state which lasted until 1991 when the UN brokered a ceasefire.
UN efforts, led by Ross since 2009, to arrange a negotiated solution have been deadlocked for years. Morocco has offered greater autonomy but has refused demands for a self-determination referendum in the phosphate-rich territory.
The Polisario Front on Friday condemned Morocco's attack on Ross as "unfounded and arbitrary".
UN Secretary General Ban Ki-moon on Thursday expressed strong support for the envoy.