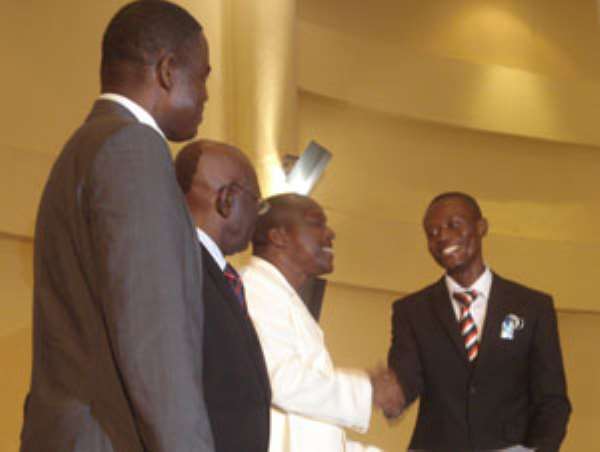 Ahenkan Ebenezer receiving the overall best student award from Alban Bagbin.
Pharmacists across the country can now have improved conditions of service with the upgrading of the profession's existing grading structure on the Single Spine Salary Structure (SSSS).
The new grading structure will, among other things, bridge the gap between pharmacists' salary structure and other professions such as medical officers.
Until now, the pharmacists had five grades of progression on their salary structure as compared to other professions which had eight and 10 progressions.
The Minister of Health, Alban Bagbin, disclosed this during the induction ceremony of 80 newly qualified and registered pharmacists in Accra.
The ceremony was under the theme 'Going Beyond Strategy to Action- The Pharmacists, Your Reliable Partner'.
Mr Bagbin, in his address, said the grading system of pharmacists onto the SSSS did not equally access the market premium of the profession and was thus advantageous to other professions.
'The medical profession started from house one, house two, medical officer, senior medical officer up to consultant, while the pharmacists had just about five progressions,' he said.
He stated that the occurrence created some dissatisfaction among pharmacists about the migration, which widened the gap between the pharmacists and the medical professions.
'What the ministry had to do is to get the grading right so that we go to the fair wages and salaries commission to get their fair share of the national cake,' he said.
He assured pharmacists of the ministry's support for the profession, adding that the ministry would fully address all outstanding issues out of their migration onto the SSSS.
He later charged the new pharmacists to accept posting to remote communities of the country.
Joseph Nyoagbe, registrar of the Pharmacy Council, said the council was committed to the programmes and activities of the ministry to improve access to healthcare and pharmaceutical care.
'The council is stepping up its inspections, monitoring and enforcement activities,' Nyoagbe noted.
He appealed to the ministry to give attention to the regulatory sector, especially the Pharmacy Council.
'It is our hope that such investments shall be channeled into developing institutional capacities,' he said.
Professor Emeritus Kwame Sarpong, former provost of health sciences, KNUST, also charged the new inductees to serve with humility in the communities they would find themselves.
'Strive to be five-star pharmacists in the discharge of your duty as pharmacists,' he said.
By Jamila Akweley Okertchiri