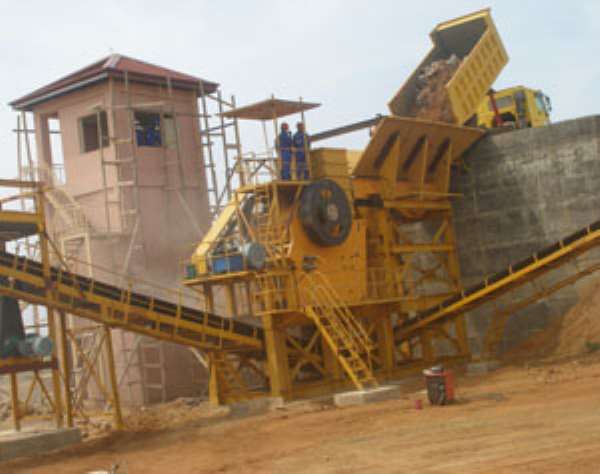 On of the plants of Atiwa Quarries in operation
Atiwa Quarries Limited, a wholly-owned Ghanaian company, has commenced operations at Opeikuma, near Buduburam in the Central region to produce quality chippings for road construction and other purposes in the country.
An amount of $9 million has already been invested in the project to procure the state-of-the-art equipment including a three-mode crushing system that is able to reduce chippings into various sizes for road construction, building and bricks, among others.
A tour of journalists to the quarries last Wednesday revealed that the company has the potential to supply chippings speedily to contractors, as it is set to make more investment in the project.
The company has a current workforce of about 60 and intends to provide more employment opportunities for the people, especially those around its catchment area.
Speaking to the media, the Chairman and Chief Executive Officer (CEO) of Atiwa Quarries, Lawyer Kwame Gyan indicated he decided to invest in the project because of high demand for granite and quarries for road construction.
He said all the operational permits had been acquired and environmental impact assessment done by the Ministry of Lands and Natural Resources, Lands Commission and Environmental Protection Agency (EPA) to commence operations.
According to him, most of the quarries in the country, which are owned by foreigners, produce only about 35 percent of chippings required in the country.
Atiwa Quarries, he pointed out, will help augment the supply needed for road construction as most of the road works sometimes stall due to lack of chippings.
The company, he added, has duly acquired about 74 acres of land to produce granite and called on contractors to approach them for reliable supply of chippings and other allied services.
Lawyer Kwame Gyan, who is also a senior lecturer at the Law Faculty of the University of Ghana, Legon, disclosed that some contractors working on the Awoshie-Pokuase road had already approach the company for supply of chippings due to its proximity.
He appealed to government for more tax exemptions for local investors to enable them expand their operations and employ more people.
  From Awudu Mahama, Opeikuma