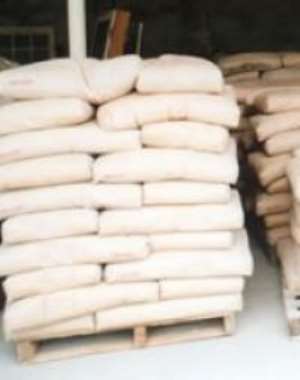 While functionaries of the ruling National Democratic Congress continue desperately to defend the government's badly bruised trumpeted economic stability and the so-called attainment of single-digit inflation, players in the building industry certainly find the claim to be at sharp variance with what pertains on the ground.
 
A market survey by the New Statesman indicates that within a space of four months, the price of a bag of cement has gone up by an average of 30 per cent.
 
A bag of cement which sold for GHC16 in the capital in February, this year, now sells for GHC 20, representing an increase of 25 per cent.
 
Our survey shows that outside the capital, in places like Kumasi, Tamale, and Takoradi, a bag of cement now   costs between GHC21 and GH¢23, an increase of 35 per cent and   37 per cent.
 
This is the reality at a time Ghanaians are made to believe that the rate of inflation – being the rate at which prices of goods and services increase – has been sustained at below 10 per cent for over 22 months.
 
Many Ghanaians find it difficult to relate the single-digit inflation to the astronomical increases in the prices of good and service in the country.
 
During his recent lecture on the State of the Economy, Vice Presidential Candidate of the New Patriotic Party, Mahamudu Bawumia, noted that the single-digit inflation being trumpeted by the Mills-Mahama led government seemed to be at variance with key economic fundamentals.
 
"The key question that is on the minds of many Ghanaians is: "Do we really have single-digit inflation in Ghana today?" While I do not want to argue with or question the integrity of our hard working officials at the Ghana Statistical Service who do a good job under very difficult circumstances, and should indeed be resourced (and given more independence) to do the work they do, I will like to state that the available evidence indicates that statistically reported single digit inflation is not consistent with the economic fundamentals and developments in some key economic indicators relating to the cost of living, interest rates and exchange rates. It could be a measurement issue, but the established relationships between inflation and key economic variables appear to have gone missing for now," the renowned economist explained.
 
By: Adjoa Felicia Ameho