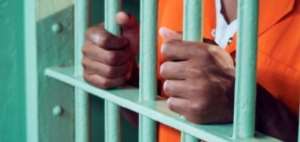 Cape Coast, May 18, GNA – The chief of Edna Ankwada , Nana Kobina Ankwada III, was on Thursday sentenced to three months imprisonment in hard labour by a circuit court in Cape Coast for assaulting his wife, sister and mother-laws.
His accomplice, Eric Neizer, 39-year-old self employed, was also sentenced to six months imprisonment for assault and stealing.
Both Nana Ankwada and Neizer pleaded not guilty to the charge of assault and stealing.
Prosecuting, Inspector Christiana Sampong told the court presided over Mrs. Florence Kai Otu that somewhere in December 2009, the complainant Madam Charlotte Aidoo accidently fractured her leg and was sent to the Central Regional Hospital where she was treated and discharged.
She said on December 17, the same year, Nana Ankwada picked an argument with her wife Charlotte Aidoo, whom he had married for 38 years with two children and asked her to leave their matrimonial home.
Inspector Sampong said the argument resulted into a fight and in the process Nana Ankwada assaulted his wife and she sustained severe pains in her fractured leg and had to be admitted at the regional hospital where her Plaster Of Paris (POP) had to be changed.
She said Francisca Arthur and Adwoa Amoaba, a sister and mother of Madam Charlotte respectively, were informed of the situation and they rushed down from Takoradi to take care of Madam Charlotte since Nana Ankwada had refused to take care of her.
She said on February 06, Nana Ankwada, Neizer and two others, who are now at large, went to the house of Nana Ankwada to eject Madam Arthur and Madam Amoaba from the house with the excuse that their services were no longer needed in the house.
According Inspector Sampong, when Francisca and her mother refused to vacate the house, Nana and his men then assaulted them and threw away their belongings.
Francisca pleaded with them to allow her retrieve some her valuable belongings in the room but they declined.
She said Francisca later realised that her 860.00 Cedis, 800 Euros and some jewelry were missing.
Inspector Sampong said an official report was made to the Police leading to the arrest of Nana Ankwada and Neizer.
GNA