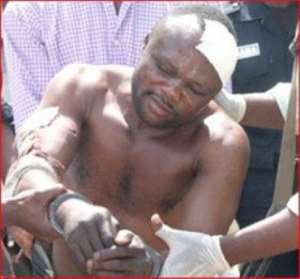 The notorious armed robber and two-time jail breaker, Johnson Kombian, has been indicted to stand trial at the High Court on two counts of conspiracy and murder of two policemen, Constable Prince Kwaku Agyare and Constable Owusu Frimpong, in 2010.
The 35-year-old robber, who was known as the Nankpanduri Terror, has been handed the bill of indictment at the Ankaful Maximum Security Prison where he is currently serving 13 years for escaping from lawful custody on two occasions.
Kombian's committal proceedings are to be held at the AMA Court B in Accra on Friday.
According to the Director of the Police Public Affairs Directorate, Deputy Superintendent of Police Mr Cephas Arthur, after studying the documents on Kombian, the Attorney-General's Department directed the police to start the process for his trial for the murder of the two constables.
Kombian was handed a seven-year jail term for his first escape from the Gambaga Prison and six years for his escape from the Tamale Prison.
Kombian, who is said to have killed the two policemen and wounded another at Nankpanduri in October 2010, managed to escape to Togo but he was arrested by Interpol in Togo and handed over to the Ghana Police.
Before being declared wanted, Kombian was alleged to have murdered a number of his robbery victims during his brutal operations at Nankpanduri, with his last victims being the two policemen.
After that assault, Kombian eluded the police by shuttling among Ghana, Togo and Burkina Faso and the Police Administration promised to give GH¢3,000 to any member of the public who would volunteer information leading to his arrest.
Incidentally, a day after Kombian's arrest in Togo, one of his alleged victims, Constable Prince Agyare, was buried at his home town near Koforidua in the Eastern Region.
In addition to the murder of and injury to the policemen, Kombian was wanted to face trial in a number of other cases, including robbery, attempted murder, possession of firearms without lawful authority, escaping from lawful custody and stealing.
Until his escape, he was serving a five-year jail term for a previous escape and awaiting trial for robbery and attempted murder.