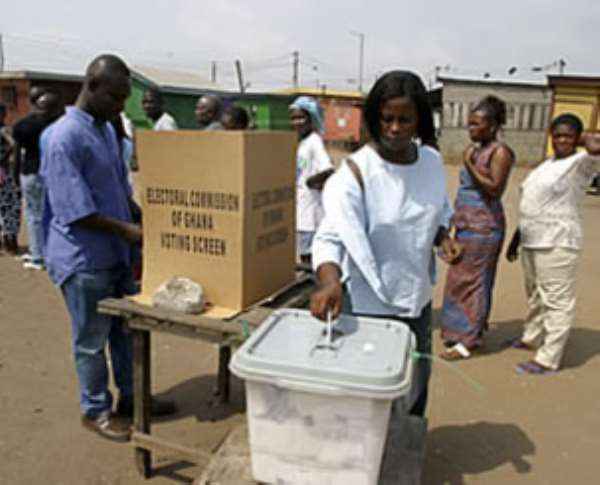 Abesim (B/A), May 17, GNA - Mr Eric Opoku, Deputy Brong Ahafo Regional Minister, on Wednesday stated that the use of intemperate and vituperative language by some politicians and individuals on radio and at political and social functions could thwart efforts in promoting peace in the country.
This was contained in a speech read for him at a national workshop on the role of traditional women leaders in promoting peaceful elections this year in Sunyani.
The workshop was attended by 50 queen mothers and was jointly organised by the Centre for Indigenous Knowledge and Organizational Development (CIKOD), Institute of Development Studies, University of Cape Coast, and sponsored by Konrad-Adenauer-Stiftung (KAS).
"You are all witnesses to what happened in this country in relation to the biometric registration exercise", he said and cautioned that "coming events, they say, cast their shadows".
The workshop aimed at strengthening the capacity of traditional women leaders to enhance and expand their democratic culture and knowledge base to facilitate a peaceful environment for political, social and cultural development.
The deputy regional minister stated that since the promulgation of the 1992 constitution, the country had experienced peaceful and fair elections, and that the success story was a strong testimony of her democratic consolidation.
He however stressed that "this is not to imply, however, that the democratic process has been very smooth and has not encountered any challenges.
"Securing peaceful and fair elections in the country is a shared responsibility", Mr Opoku said and commended the organizers of the workshop for choosing to educate the traditional women leaders on the role they could play in promoting peaceful elections.
Mr Opoku urged the queen mothers to embark on educational campaigns and awareness creation on core ethical issues such as honesty, integrity, love, patriotism and tolerance, as well as desisting from harassment and intimidation of others, as a means of securing peaceful and fair elections.
"Traditional women leaders can engage with relevant stakeholders including the Electoral Commission, political parties, police, media through workshops on issues relating to how peaceful and fair lections can be secured", the deputy regional minister said.
He expressed the hope that government through the Ministry of Women and Children's Affairs would continue to sensitize and encourage more women to actively participate in programmes that would promote peaceful, free and fair elections.
The extensive knowledge acquired by women in various fields of endeavour including understanding of issues bordering on good governance, peaceful elections and development make them important stakeholders in maintaining the peace enjoyed over the years, the deputy regional minister added.
Mr Opoku urged the participants to contribute effectively so they would be imbued with all the strategies that would make them worthy ambassadors of promoting peaceful elections.
Nana Afia Gyamfuah Kessie, Dwumankwahemaa of Wenchi Traditional Area called on traditional authorities to be firm and stop any political party that would suspect its campaign activities in their areas posed danger.
"Since the chief's palace is the first point of call of any important visitor or political leader in any community before they carry out their activities, Nananom should take the opportunity to advise them on the need to promote peace in the country", she said.
Nana Gyamfuah asked traditional leaders not to allow themselves to be used by politicians to bring about division amongst their people that would stifle their developmental efforts.
GNA