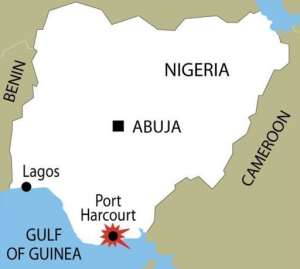 PORT HARCOURT, Nigeria (AFP) - An explosion caused by dynamite on a bus in the Nigerian oil hub city of Port Harcourt on Thursday killed the driver and wounded two others, the state governor and a rescue official said.
"It was a minor incident of suspected robbers who put some dynamite and weapons inside a bus," Rivers state governor Rotimi Amaechi told AFP by phone.
"One of the dynamite exploded, killing the driver while the two other occupants sustained injuries."
Port Harcourt is the capital of Rivers state and home to a number of oil firm offices.
Amaechi said the two people who were wounded were taken to hospital and were to be handed over to security agents for questioning. According to the governor, police recovered four AK-47 rifles and an unspecified amount of ammunition.
Amaechi said it appeared the alleged robbers were using the bus for transportation and the explosion happened accidentally.
"It was not a bomb attack," he said. "It was a dynamite explosion inside a bus by suspected armed robbers who usually use dynamite to rob banks."
A spokesman for the National Emergency Management Agency confirmed the explosion as well as the death of the driver, but provided no further details.
Criminals in Nigeria tend to be well-armed, including with explosives and even reports of rocket launchers on occasion. Illegal weapons are widespread in the country, Africa's most populous nation and largest oil producer.
Advertisement
Nigeria's north has been hit by scores of bomb blasts blamed on Islamist group Boko Haram, but the country's south has so far not been hit by such attacks.
Prior to a 2009 amnesty deal, the crude-producing Niger Delta region, where Port Harcourt is a major city, was hit by unrest by militants claiming to be fighting for a fairer distribution of oil revenue.
The amnesty however led to a sharp decline in the unrest, which mainly targeted the oil industry.