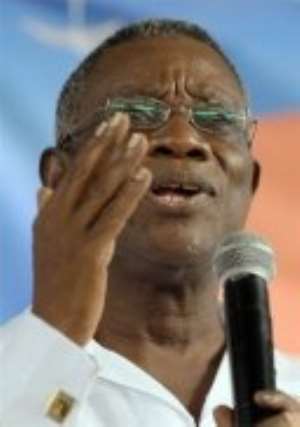 Every foreign country president John Evans Atta Mills visits, he launches a special appeal to people living in that country to come and invest as part of their contribution towards building the country Ghana.
In it entire sense is not bad for the president to appeal to potential investors both Ghanaians and foreign citizens to come and invest in the country. So I always keep nodding my head when I hear him launching the appeal.
But to invest in Ghana the biggest question that comes in mind is whether the environment is so conducive or better still investment friendly for one to take advantage to conduct successful investment.
The poor sanitation causing many illnesses, bad road networks resulting in fatal accidents and deaths, shortage of pipe borne water, persistent hydro-electric power outages which are crippling the already existing industries.
These and many more but just to mention a few are areas where he has to pay more attention to first before sending appeals round for investors to come in and not waste their time, energy and money.
No body can say that it is wrong for the president to globetrot looking for international potential investors to come and invest in Ghana to create jobs and better living conditions for our parents, brothers and sisters as well as friends and loved ones.
However he has failed to address problems making it impossible for local investors to grow their business which are the same business investments he is looking for would be investors in foreign countries to come to Ghana and invest.
Unemployment rate in the country for the past three years is so bad and getting worse. For the first time I am hearing about an association formed by graduates who are unemployed. Huh. Unemployed Graduates Association of Ghana [ UGAG]?
Have Ghanaians forgotten the assurance the tax professor gave them when he was campaigning that when elected as the president he will make sure every energetic and industrious son of the land is employed?
Read his lips," Kufuor ne nekrofo se won abue bue ndwuma nanso nketesia reton ade wo kaare kwam, na ebe nso retow dame wo duase. Ame Atta Mills meba nbenyen ne nketesia biara beko skull anaa be ye awdoma"
To wit, president Kufuor and his followers claim they created jobs meanwhile the youth and our graduates are either selling dog chains or playing draft under trees. When elected into office as President Atta Mills, I will create jobs for the unemployed youth and ensure students go to schools.
That was a nice assurance to the electorates which may have won him more votes. But is that what is really happening in the country now of course not? Other wise there won't be any armed robbery, stealing, dog chain sellers on our streets and many more.
President Atta Mills would have become the hero of every Ghanaian suppose he paid much attention to local investment by ensuring that all those who want to invest in health insurance as well as other insurances, transportation and trade were given the needed attention and support.
Let me narrow it down to Health Insurance investment. Do you know that for the past three years some companies which are into health insurance are operating without licenses? Meanwhile they are doing a good job by providing quality health insurance to clients.
These companies are afraid to hire some of the unemployed youth because they can not tell whether they would be stopped or not and at the same time can not advertise their business to get clients because they have not been licensed yet.
Therefore if potential local investor's applications are gathering dust on the shelves at the National Health Insurance Registration office preventing him from doing business and the president goes round calling on international investors to come and invest in Ghana is it not questionable?
Go to Europe, America and Canada and there you will realize that greater priority is given to local manufacturers as well as investors before foreign investors. They are thinking about exporting before importing whiles in Ghana is the other way round.
It is time greater attention is given to local investors to grow the economy by creating jobs and honouring their tax obligations before globetrotting for international investors.
Until this is done, I will keep on nodding my head in agreement to the president's appeal for investors to come to Ghana but I will keep my thank you words in my head. Some action must be taken now before some one says thank you.
Did you say thank you to the president? I am waiting.