16 May 2012
|
Feature Article
BAN ON DRUMMING, BOOK LONG AND MATTERS ARISING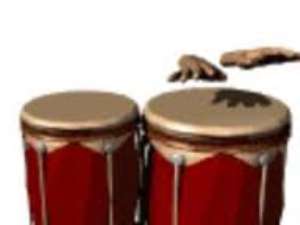 Noise making in Ghana has reached a height where uninterrupted sleep in a residential area is a luxury. Back in the days, the home was a place of sanity, refuge, privacy, and peace from the pressures of the job market and the day's activities. But woe betides you if the place you call your home is located anywhere near a church or a cluster of churches where deafening-noise from electronic guitars, keyboards, drums and microphones is the order of the day (Amoah, 2004).
Unconfirmed reports has it that whenever the Ga Traditional Council imposes it's one-month ban on drumming, populace residing in the same neighbourhood with 'noisy churches' give bigger thanksgiving offerings to God almighty and the gods for restoring order and silence into their lives temporarily. The ban on drumming, dancing, funerals, and other forms of noisemaking, according to Ga oral tradition, is a period of quietude imposed by the priests right after the ritual sowing of maize to "to leave the gods undisturbed while they look after the yams" (Field, 1937; van Dijk 2001; Baneseh, 2002;).
Quite fascinating, is the fact that some modern-day churches in Accra are defying the one-month ban on drumming as they claim the tradition seeks to suppress the Christian faith and the influx of foreigners on the Ga land. The massive membership—young, urban, educated followers of the Christian religion—perceive the ban as traditional leaders' ploy to force Christians to not only abandon their way of worship, conscience, human rights, but the gesture contradicts the provisions of article 21, clause 1 paragraph (c) of the 1992 Constitution of Ghana.
But the leadership of the Ga land respond by maintaining that complying with the ban on drumming during the Homowo festival is acknowledged by the state on the basis of the 1992 Constitution, the general public's respect for chiefly and religious tradition, and that Homowo is a ritual of traditional religion which has an equal status to other religious rituals, be they Christian, Muslim or whatever (van Dijk, 2001). According to Kwarteng (1999), the Christians hold that since not all Gas are traditionalists, it is unfair for the overlords to make legislations that binds other Ga natives who are Christians, Muslims, Buddhists, etc.
So when these 'unconcerned' churches defy the ban and hit their instruments and drums harder, consequences are bound to follow in accordance with the saying 'when you go to Rome you do what the Romans do'. Some unidentifiable members of society have capitalized on the defiance of the churches to loot them of their musical instruments (in many cases). On Sunday, May 31, 1998, for example, the Korle Bu branch of the Lighthouse Chapel was severely attacked by a mob that injured church members and confiscated the church's costly instruments (van Dijk, 2001). The raid persisted as agitated gang armed with stones and clubs on Sunday, May 9, 1999 attacked members of the Awoshie branch of Victory Bible Church and confiscated their instruments (Bamfo, 1999). Further attacks and looting of musical instruments by irate youths was launched at the Osu branch of Christ Apostolic Church (Ghanaian Chronicle, 2001), branches of Apostolic Faith Mission, and the El Shaddai Charismatic Church.
I chanced on additional information, on the noise you and I create as part of doing business or entertaining ourselves, which I could previously have waived off as a threat to noise pollution; in Ghana currently, unemployment has forced many of our youth to veer into the selling of audio and video compact discs (CDs), SIM cards, and the promotion of products like medicine, television antennas, etc. on most principal streets. The more sophisticated approach these youth adopt is to place a public address system, a machine playing loud music powered by a generator set in an open track to catch the attention of customers from far and near. The sound release from these trucks for even 5 seconds is too inconveniencing to the ears and is a complete barrier to communication. So imagine the chaos that will generate in your system and in your working place if this same vehicle with these blaring speakers stands in front of your shop for close to 10 minutes or everyday of the week. I doubt if Section five of the AMA abatement of noise Bye-law of 1995 that states, "no person shall play or cause to play any recorded music in public for advertising purposes so as to cause a nuisance to the public" is being regarded here.
Funerals include the commonest and loudest source of noise every weekend. In most neighbourhoods, no weekend passes without a funeral or a wake keeping ceremony. The ceremony involves erecting canopies and placing public address system, big loud-mouthed speakers and plastic chairs on the streets thereby blocking vehicular movement all weekend. Perpetrators of such acts not only inconvenience motorists and make unnecessary noise but do so without any permit from the assembly or the police. I don't even want to talk about the excessive noise from the horns of trotros, taxi cabs, motorcycles, cars selling ointments like 'Akobam', the countless street jams, birthday parties, and the various types of celebrations we have weekly.
These episodes highlight how we as a society have allowed a lot of water to go under the bridge although there are laws in this country to control excessive noise. Section 28 of the Environmental Protection Agency (Act 490), section 7, sub-section 1 and 2 of the Local Government Act, 1993 (Act 462), and the AMA Nuisance Abatement by-law of 1995 are amongst the laws and by-laws passed to protect the people of Ghana against all forms of pollution, including noise pollution. But the question is do we even know of the existence of such laws?
The local metropolises in their own wisdom have categorized areas according to the level of noise activity on-going and the time of day. Generally speaking, residential areas with infrequent transportation disturbances, educational and health facilities, commercial or light industries (comprising of areas with some light industry, places of entertainment or public assembly, and places of worship), and heavy industrial areas are rated differently and attract varying noise levels during the day or in the night. But as it stands now, the various metropolitan assemblies are seriously handicapped as many residents, churches, businesses, etc. are plainly flouting these laws and exhibiting gross disregard for the well-being of their neighbours.
I don't seek to use this platform to bastardize local assemblies for not doing much to savage the situation, or churches for playing instruments louder, or law enforcement agencies for not arresting enough defaulters, or traditional leaders for imposing a ban on drumming when citizens think the law is illegitimate.
But if we really want to be honest with ourselves, we'll realize that the stipulated sanctions for sound pollution as captured in section 10, clause one of the AMA Abatement of Noise bye-law is a big joke nicknamed 'a sanction'. The law states among other things that, "any person who contravenes any provisions of these Bye-laws commits an offence and is liable on summary conviction to a fine not exceeding GH¢20.00 or in default to a term of imprisonment not exceeding six months or to both". This sanction, in my view, can never scare the numerous multi-billion companies, churches, distribution firms, night club, etc. who make billions of Ghana Cedis within seconds and are willing to pay any fine so they stay in business (if they so please to ignore the greater good).
Honestly, we are doing our nation, community, our eardrums and general health a great disservice if we endorse a ban on drumming for just a month and leave the floodgates of noise making open for the rest of the year. What good is our wealth when we all go deaf? What use also is there in mentioning that we belong to a particular religion when we preach peace but act lawlessly and our actions or inactions maim somebody else?
What we need is enough common sense to realize that the effects of sound abuse are far bigger than religious practises, profit margins of businesses, wealth creation or our constitution rights. "Tell your neighbour that his or her fundamental human rights ends, where yours begins", the constitution says so.
Paa Kwesi Forson
[email protected]
Works Consulted
Amoah, Michael. 2004. "Christian Musical Worship and 'Hostility to the Body': The Medieval Influence Versus the Pentecostal Revolution." Implicit Religion 7/1: 59–75.
Bamfo, Stella Abena, 1999. "Is the Church safe?", Letter to the Editor in the Ghanaian Times, 14th May.
Baneseh, Mabel Aku. 2002. "Ban on Drumming begins May 6." Daily Graphic, March 25.
Field, Mary J. 1937. Traditional Custom and Medicine of the Ga People. London/New York: Oxford University Press (Reprint New York 1979).
Ghanaian Chronicle, 2001. "Church returns 'fire' in drums war." May 14.
Kwarteng, K. A. 1999. "Taflatse – Of Drumming, Religious Freedom and …" Ghanaian Chronicle, May 12.
Nortey, Naa, 2009. Noise levels in Accra on the increase. www.modernghana.com. 30 September.
van Dijk, R.A. 2001.'Contesting silence : the ban on drumming and the musical politics of Pentecostalism in Ghana'. Ghana studies, vol. 4, pp. 31-64.