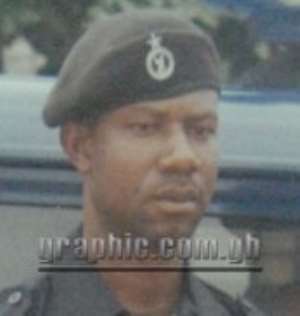 late L/Cpl Iddi Braimah An attempt by the police to arrest members of a car-snatching gang at Ashaiman last Tuesday ended fatally when one of the plainclothes policemen was shot by the robbers.
Lance Corporal Iddi Braimah died at the Police Hospital Wednesday morning from the gunshot wounds he had sustained the day before.
However, a swift response by the police at the hideout of the car snatchers early on Thursday resulted in the death of one of the robbers, the capture of another, while a third suspect is believed to have escaped with gunshot wounds.
The deceased robber has been identified as Prosper Kwateku, alias Kush Oseiku, while Godson Mantey, alias Velli, 25, is in the grip of the police. The escapee robber has been identified only as Kobby, alias Schoolboy.
A locally manufactured pistol, four live cartridges, one spent cartridge, five mobile phones and a quantity of leaves suspected to be Indian hemp were retrieved from the robbers' hideout.
Briefing newsmen in Accra Thursday, the Accra Regional Police Commander, Deputy Commissioner of Police Mr Patrick Timbillah, said about 1:30 p.m. on April 10, 2012, the police had information that some armed robbers were offering for sale two cars they had earlier snatched.
He said some policemen in plainclothes were despatched to the scene to negotiate the purchase of the cars.
He said the suspected robbers, numbering three, were located at a hotel and used a black Toyota Corolla with registration number GE 4910-09.
According to Mr Timbillah, on the approach of the police operatives, one of the armed robbers identified L/Cpl Braimah as a policeman and consequently opened fire on the operatives.
He said L/Cpl Braimah died at the Police Hospital while receiving treatment from two bullet wounds.
He said although the police returned the fire, the armed robbers managed to escape.
After receiving intelligence reports, he said, the police stormed the robbers' hideout at Lebanon, a suburb of Ashaiman, about 2 a.m. on April 12, 2012 with the view to arresting them.
Advertisement
Mr Timbillah said the robbers opened fire on the policemen upon seeing them and one of the robbers, Prosper, died when the police returned fire, while Kobby managed to escape with gunshot wounds.
According to him, Mantey, who had gone into hiding after the April 10 incident, later surrendered himself to the police.
The suspect, he said, had allegedly admitted being at the hotel on April 10, 2012.
The Accra Regional Police Commander said although the armed gang had been suspected to be a new car-snatching ring, it was established after Godson had surrendered that the gang had been in the business for long.