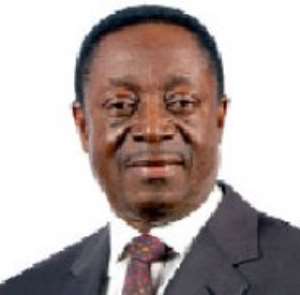 Finance Minister Kwabena Duffour The national economy grew by 16 per cent in the last four months of 2011 on the back of strong growth posted in the industry and the services sectors.
The 2011 fourth quarter growth rate of 16 per cent is 0.8 per cent lower than the 16.8 per cent growth rate recorded in the third quarter of 2011. It is, however, nine per cent higher than the seven per cent growth rate posted in the fourth quarter of 2010.
That notwithstanding, the total monetary value of goods and services produced in the country — gross domestic product (GDP) — for the fourth quarter of 2011 rose to GH¢7,825.5 from the GH¢7, 778.8 recorded in the third quarter of last year.
Addressing a news conference in Accra yesterday, the acting Government Statistician, Dr Philomena Nyarko, said the industry sector of the national economy led in growth during the fourth quarter of 2011, posting an impressive growth rate of 41.4 per cent, followed by the services sector, which grew by 15.9 per cent.
The press conference was also meant to announce GDP figures for the fourth quarter of 2011 and the inflation rate for March 2012.
The agricultural sector recorded a growth rate of 1.2 per cent, the least rate in the sector-by-sector outlook in the fourth quarter of last year.
Dr Nyarko said the strong growth rates posted in crude oil and its related services, the construction and the manufacturing sub-sectors helped "push growth in the industry sector".
In the services sector, she said community, social and personal activities were the main drivers of growth, as they grew by 86.8, 48.8 and 26.3 per cent, respectively.
Both the information and communications and the finance and insurance sub-sectors of the services sector, however, recorded negative growth rates.
"The crops sub-sector (including cocoa) contributed 4.5 per cent, while forestry and fishing recorded negative growths," Dr Nyarko said.
Meanwhile, inflation for March this year inched to 8.8 per cent, rising by 0.02 per cent from the February 2012 rate of 8.6 per cent.
While the non-food group of the inflation basket continued its double-digit inflationary trend, inflation in the food and non-alcoholic beverages group rose slightly from the 4.3 per cent it recorded in February this year to 4.4 per cent in March, possibly causing the entire inflation rate to rise marginally.