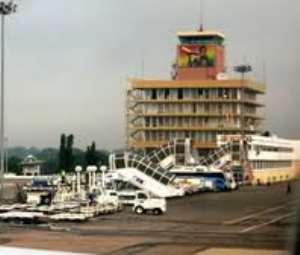 Accra, May 15, GNA – The Ghana Airport Company Limited (GACL) has restructured its revenue generating portfolio to focus more on raking in funds from the landside of Kotoka International Airport (KIA) instead of the orthodox means of gathering monies.
Mrs Doreen Owusu-Fianko, Managing Director of GACL disclosed this at the Inaugural Breakfast Meeting organised by the Canadian Chamber of Mines (CCM) in Accra on Tuesday.
The meeting on the theme, "The Changing Business Environment in Ghana," is the first in a series for 2012, to discuss how CCM could participate in the massive modernisation exercise at KIA.
She said management welcomed private sector participation in the redevelopment process of KIA to meet the growing demand on the airport infrastructure.
Mrs Owusu-Fianko expressed hope that a successful roll out of such economic activities at the landside would help reduce airport charges and make KIA an attractive and preferred port.
Major economic activities earmarked to transform the KIA include an airport business centre with four or five-star hotels and shopping malls, a world class specialist medical centre, fixed based operator for private jets, maintenance, repair and overhaul of aircraft, as well as construction of a multi-storey car parks.
Mrs Owusu-Fianko noted that the already installed automated equipment for car parks had contributed towards increasing revenue, stressing that, monies generated at the sector had increased by 60 per cent as a result of the automation.
Other infrastructural development includes construction of new airline office complex, new office for freight forwarders, a trans-shipment cargo centre and water development and storage systems.
She projected that more than 5,000 jobs would be created during the construction and the running of the proposed facilities.
Mrs Owusu-Fianko said the airside and terminal facilities would be developed to serve as subsidiary source of revenue generation.
Other works proposed for the airside include major rehabilitation works on the runway, taxiways, aprons, supply and installation of bird disposal system and management and completion of an ultra-modern fire station.
She said the provision of adequate seats in the terminal building, major rehabilitation and expansion of terminal to include new departure concourse, large retail area, transit lounges, aerobridges, introduction of passenger facilitation technology, including self-service kiosks, would be undertaken at the terminal facilities.
The supply and installation of additional x-ray equipment, consultancy services for power systems, study upgrade at KIA, installation of state-of-the art baggage handling and screening systems for departures and arrival halls are the other works earmarked under the terminal facilities.
Mrs Owusu-Fianko said the proposed upgrading of the Tamale domestic aerodrome to international standards would serve as an effective and strategic alternative to KIA.
She estimated the cost for the upgrading work to be about 174 million dollars.
Mrs Owusu-Fianko said the upgrading works would include extension of the runway from the current 2,500 metres to 4,000 metres.
Other ancillary projects include perishable cargo centre to serve the Sahelian Region of Africa, a Hajj terminal, Regional Maintenance Bay, Crafts Village with export potential, airport city equipped with hotels, shopping malls and executive offices.
Mrs Owusu-Fianko said management planned to roll out a policy to establish an airport in the Western Region (Prince's Town near Takoradi), Central Region (Ankaful) and the Volta Region (Ho) to add to existing ones in Kumasi, Tamale and Sunyani.
She said the objective for developing domestic airports was to facilitate the movement of goods and persons due to tourism, agriculture and medical evacuation.
GNA