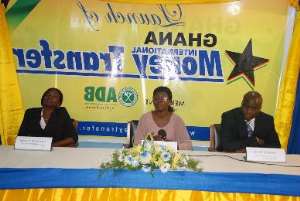 Accra, May 15, GNA – The remittance arm of the Jamaican National Building Society, JN Money Services (JNMS), on Tuesday made another strategic move in its investment across the world with the launch of Ghana International Money Transfer Service in Ghana.
The company launched the Service in Accra to concretize its partnership with the Merchant Bank and the Agricultural Development Bank, both of Ghana, to provide Ghanaians and other residents, reliable, affordable and timely delivery money transfer services.
The company has chosen Ghana's international top striker Asamoah Gyan the brand ambassador to be the face of Ghana International Money Transfer.
The Project Coordinator of the Ghana International Money Transfer, Ms Ama Baah told journalists that the new face of the remittance service by JNMS represents the next plank in the bridge to connect Jamaica, the UK, US, Canada and Ghana and by extension, the Caribbean, Europe and Africa to facilitate delivery of its services.
"Today we are also on the path to establish and solidify sustainable ties which are focused on achieving outcomes for our people who share common development objectives and goal," she said.
With its reputation and expertise in international money transmission dated since 1988, JNMS Ms Baah said recognises opportunity in which it could assist persons in Ghana to maintain contact with the an estimated four million Ghanaian nationals in the Diaspora and increase their participation in nation building.
She described the partnership with the two banks as having proven to be beneficial and sustainable alliance, which had started to accrue benefits to the people of Ghana.
She said currently the Service through the partnership with the banks had more than 100 locations across all regions of Ghana ready to offer reliable and timely service.
"...we fully intend to broaden our remittances service beyond basic money transfers which we intend to roll out in the medium term."
The company is currently studying the nuances of Ghanaian communities in order to enable it roll out its unique corporate social responsibility programme, especially in the area of education in the country.
"The new partnership with Merchant Bank coupled with the innovation being brought on board by Ghana International Money Transfer Service, will in no doubt ensure total quality remittance services to Ghanaians, both home and abroad. We also hope to inject some more competition into the sector," Merchant Bank Head of Consumer Banking, Mr Henry Baye said.
GNA