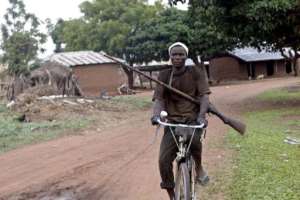 LAGOS (AFP) - Attackers have invaded farming villages in northeastern Nigeria, setting homes ablaze and killing at least six people in what was thought to be reprisals in a communal dispute, police said Tuesday.
An unknown number of residents had also fled the area, officials said.
"Around 500 attackers believed to be nomadic Fulanis stormed five villages in Lamurde local government area of the state around 6:30 am on Sunday," Adamawa state police spokesman Nemuel Yoila told AFP.
"They set the villages on fire and the bodies of six people had been recovered."
He said police were alerted of the attack by villagers when they saw a large number of Fulani herdsmen -- about 500 -- moving towards the area on Sunday.
Fulanis are mainly Muslim while the local farmers tend to be Christian. Clashes over land have occasionally occurred in the past.
"We quickly mobilised our men to repel them by engaging them in a shootout. But unknown to us, another group of invaders had entered the villages through another route and set them on fire," Yoila said.
He said the situation was now under control and an investigation was under way, though no arrests had been made.
A spokesman for the National Emergency Management Agency said rescue workers were finding it difficult to access the area.
"The difficult terrain of the area is making it difficult to have first-hand information on the situation, but we are trying our best to assist victims of the attack," Yushau Shuaib told AFP.
He could not say how many villagers had fled the area.
Nigeria, Africa's most populous nation and largest oil producer, is roughly divided between a mainly Muslim north and predominately Christian south and includes some 250 ethnic groups.