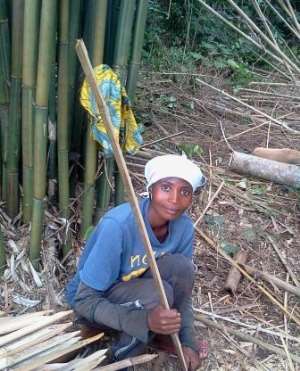 The Global Bamboo Products Company is working on a bamboo value chain in Ghana to create jobs and alternative sources of income for rural communities.
Working with out-growers and processors in the Ashanti, Eastern and Western regions, the initiative involves producing ecologically friendly and financially viable bamboo products for a green lifestyle.
From reforestation to production and marketing of substitutes for timber products, the approach relieves pressure on forests by inter-cropping bamboo plantations with food crops to prevent forest clearance for agricultural production.
The company has been engaged in bamboo development plantations for the past seven years, with a current total of about 300 hectares and expansion plans to achieve a targeted 1000 hectares.
The project was among five Ghanaian social and environmental enterprises that won the recent prestigious SEED Awards, an initiative founded by the United Nations Environmental Programme (UNEP) and other partners.
The Global Bamboo Products Company produces bamboo charcoal, dining sets, doors, bangles, lazy chair, table mats, garden furniture, treated bamboo poles, baskets and other handcrafts.
Project Initiator, Gloria Asare Adu, says the company plans to produce bamboo constructional materials like bamboo ply boards, bamboo flooring, T&G panels, and activated carbon for the export and local markets.
She tells Luv Fm the company has been recording positive impacts on the communities because bamboo, unlike timber, has a short-cycle gestation period – from 3-6 years.
"Within these last years, I have been able to cultivate the bamboo and its even reached maturity, whereby I have even begun harvesting; so I'll say that I've had some impact with what I'm doing and also the people in the community they're also into agro-forestry on the same land that I cultivate the bamboo on, whereby they intercrop with their cash crop", Ms. Asare Adu stated.
The bamboo farms provide alternative livelihood resources which have an impact in poverty alleviation for the out growers – including intercropping with maize, chilles, sweet potatoes, beans, beekeeping for honey production and mushroom production.
Such farm practices have gained tremendous environmental impact in the recovery of water bodies in the forest reserves.
Whilst encouraging the youth to go into bamboo plantation development for high economic gains, Ms. Asare Adu expects the SEED Awards to increase the company's exposure to investors to ease its scale up prospects.
"Right now the world is going green and I'll encourage the public also to use the green products such as bamboo – bamboo can be used for almost 5,000 different products – and I'll also encourage the public that there is bamboo charcoal on the market and I'd like them to look out for the bamboo charcoal which is a sustainable material", she emphasized.
Story by Kofi Adu Domfeh/Luv Fm/Ghana