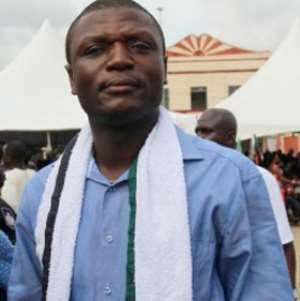 Spokesperson for ex-President Rawlings, claims Former First Lady, Nana Konadu Agyeman Rawlings only sought to remind the NDC about the waning core values and principles when she wrote to the party hierarchy last week since the 'umbrella family looked disjointed".
Kofi Adams insists Mrs Rawlings' letter should not be placed out of context and debunked claims that it was a ploy by the former NDC flagbearer aspirant to seize control of the umbrella logo.
The former First Lady threatened to place a ban on the use of the NDC's logo, an eagle on top of an umbrella, if the party continues to disrespect her family, the founder and the values enshrined in the logo and the constitution for that matter.
A letter written to the NDC National Chairman, Dr. Kwabena Adjei, through her solicitors stated 'as you may be aware, our client holds the copyright to the political party logo being used by the NDC party as its registered political party symbol and known as the 'akatamanso' (umbrella).
But this move has not gone down well with most members of the ruling party with some even accusing her of undermining the position and stature of former President Jerry John Rawlings.
A leading member of the NDC and a former close confidant of the Rawlingses, E.T Mensah has openly stated that Mrs Rawlings cannot claim exclusive ownership of the logo.
According to him, though the choice of an umbrella came from the 31st December Movement, a organisation which was headed by Mrs Rawlings, the logo was a compromised decision by cadres and members of a alliance because the eagle came from the Eagles Party which was part of that grand coalition.
http://www.dailyguideghana.com/wp-content/uploads/2012/05/ndc_logo.jpg
NDC logo
After joining forces, he revealed, the union metamorphosed into the NDC, thus the former First Lady cannot be said to be the sole owner of the logo.
But speaking on  Peace FM 's ' Kokrokoo ' Morning Show, Kofi Adams, who has been suspended from the party and from his position as a Deputy General Secretary, likened the happenings in the NDC to a tenant who had gone to rent a house and has turned it into a warehouse.
He explained that when the need arose for a political symbol for the NDC, Nana Konadu, together with some of her friends, presented the 'Umbrella' logo whiles other top brass of the party proposed 'sheep' and 'plantain'.
'It is just like renting a house and using it for warehouse or store without the notice of your landlord. You rented it for settlement and the owner reserves every right to approach you and remind you about the agreement…whether written or unwritten (verbal)…There is a Copyrights Act of 2005, 609…it doesn't warrant them to do so," he said.
Source: Peacefmonline