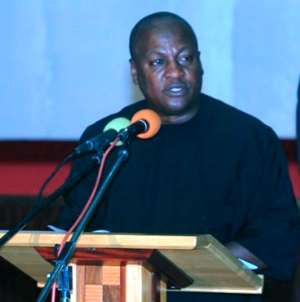 Accra, May 14, GNA-Vice President John Dramani Mahama on Monday commissioned a CASA C-295, a new multi-purpose military aircraft, and four buses into the Ghana Armed Forces (GAF).
The twin-turboprop transport aircraft, manufactured by Air Bus Military of Spain, for which the Deustche Bank Socied Anonima of Spain arranged funding, can be used for surveillance and reconnaissance as well as search and rescue missions, medical evacuations, and peace support operations.
It adds to an earlier one commissioned into the GAF last November.
The two aircrafts, ordered by the Government are replacing the more than 30-year old Forker 27.
The four buses are part of the contract deal for the purchase of the two air-crafts. A pick up, fire tender and fuel browser- are yet to arrive.
At the commissioning ceremony at the Air Force Base in Burma Camp in Accra were on display some ground support equipment, two boom cranes and two vehicles that would support the aircraft.
Vice President Mahama said: "The CASA C-295 from today becomes the main workhorse of the Ghana Air Force. It will be deployed as a troop carrier for both external and internal operations. "It is also capable of para-dropping soldiers anywhere in Ghana and beyond. The CASA C-295 will in addition be used for medical evacuation and other national emergencies."
He stressed that Government is determined to re-equip the Ghana Armed Forces to make the service modern and to meet the challenges of the 21st century in order to enable the personnel to handle threats associated with the oil find.
" The CASA C-295 aircraft with its famed robustness will therefore come in handy to undertake tasks across a large spectrum of air operations- from the low to the high ends- that is from combat support to humanitarian roles," Vice President Mahama said.
He charged the managers of the aircraft to maintain it with the utmost diligence so that the nation could derive maximum returns on the investment made.
More
GNA