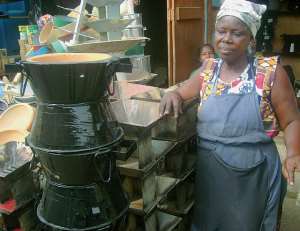 A local initiative is contributing to a greener Ghanaian economy through the production and marketing of efficient biomass cooking stoves.
The stoves produced by Kumasi-based Man and Man Enterprise and its business partners is helping to relieve pressure on the country's forests and reducing harmful smoke emissions.
The indiscriminate felling of trees for charcoal is a major factor contributing to forest depletion. Available statistics indicate that over 65 percent of Ghanaian urban households use charcoal for cooking and heating.
The conventional charcoal-fuelled stoves contribute to deforestation and cause harmful emissions and health problems.
The "Holy Cook" stoves can however reduce charcoal consumption by 40% - the stoves are made from scrap metals with an in-built ceramic lining which retains heat.
Product innovator, Michael Yaw Agyei says more than 70,000 stoves have been distributed to Ghanaian households since production started in 2007.
In the Ashanti region, the initiative sells hundreds of such "Holy Cook" stoves every week and creates employment for many artisans.
The stoves cost the same as conventional stoves and have a longer lifetime.
The innovation recently received the prestigious SEED Award, founded by the United Nations Environment Programme (UNEP), based on the product's ability to create economic, social and environmental benefits to Ghana's sustainable development agenda.
Man and Man Enterprise plans to increase profitability by integrating lining production into its own operations and by expanding its operations into currently underserved regions in Ghana and neighbouring countries.
According to Mr. Yaw Agyei, feasibility studies carried out in Togo and Benin show a positive outlook for the product marketability in those markets, adding that similar prospects exist in Nigeria.
"We're looking for investors who are interested because we don't have the necessary funding to expand to that level", he requested.
The SEED Initiative is supporting the venture in business plan development and providing networks to the project.
The Enterprise hopes to train 70 men and 30 women in manufacturing stove parts, providing an income that is 80% above the local minimum wage.
Story by Kofi Adu Domfeh/Luv Fm/Ghana