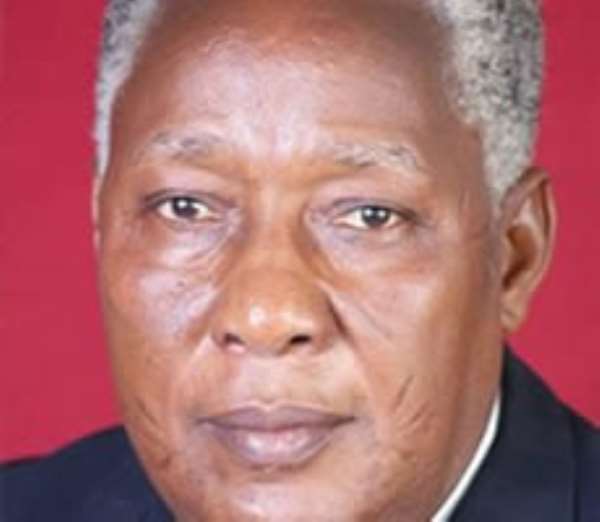 ET Mensah
The Works and Housing Minister ET Mensah has described as "whimsical" and "hypocritical" the New Patriotic Party's opposition to Guma's construction of 500 affordable houses in the country.
The Ministry has signed a Memorandum of Understanding to allow the South African company to build the 500 houses to mitigate the over 1 million housing deficit in the country.
The NPP said the contract to Guma was a slap in the face of the Ghana Real Estate Development Association (GREDA) who has shown overtime that it has the capacity to build the affordable houses for the country.
The party's Head of Communications, Nana Akomea said after the STX fiasco it made sense for government to revert to GREDA for the housing projects and was shocked another foreign company had been contracted to build the houses.
But in a reaction at a press conference on Monday, the sector Minister, ET Mensah said the NPP has no moral right to talk about local contractors, especially when it, whilst in government, contracted a foreign company to build the presidential palace.
Joy News' Sammy Darko who was present at the conference reported the minister as saying, the 4,750 affordable housing project started by the NPP before it lost power in 2008 was fraught with myriad of problems.
The minister dismissed claims it has taken the NDC government too long to complete the affordable housing project.
"I am in my third month. I have not been here for three and half years. It took the NPP six years to think about affordable houses," the minister noted.
Whilst admitting that the STX housing project took a lot of time of his predecessors, he added government had to conduct thorough diagnosis and audits of into NPP's botched housing project.
According to ET Mensah over 470 of those houses had been awarded free of charge to persons working in the offices of the then president and ministers of state.
He said some of the 383 contractors who were given large sums of monies also failed to turn up at their project sites.
He said the government will adopt "its own style" and with a holistic approach solve the problem of affordable housing in the country.
Mensah described the contract to the GUMA group as a "new dawn, and a new strategy" to solve the housing deficit in the country.