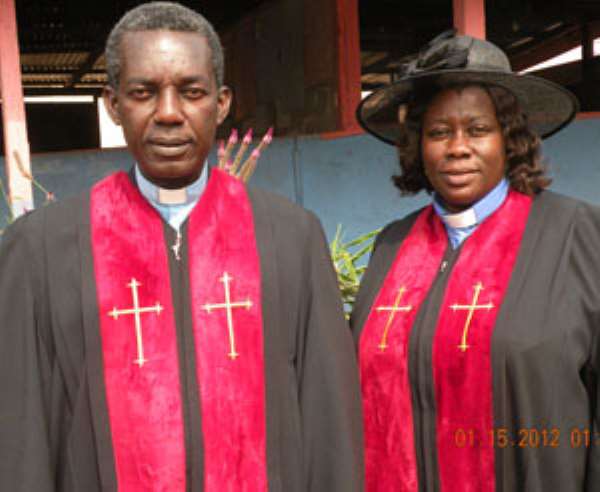 Rev and Prophetess Mrs. Grace Dodoo
THE BAPTIST Family Church at Obosomase in the Akwapim North District of the Eastern region will tomorrow, May 13 climax a week long Women's Day Celebration with a grand church service to raise funds to continue with the church's development project.
The church's Resident Pastor, Rev. Jerry Dodoo made this known an interview with DAILY GUIDE at the church office in Obosomase.
Rev. Dodoo said the role of women in church building cannot be overemphasized, adding women play key roles in areas such as   song ministrations and prayer, character building, donating generously in cash and kind to the work of the ministry and making critical suggestions that help in the church's development.
He added that the Baptist Family Church in line with its catch phrase – 'God sets the lonely in families  (Psalm 68:6)' ensures that members are brought up according to sound biblical doctrine to make them feel at home and confident enough to face life's  challenges.
Senior Associate Pastor of the Church, Prophetess Grace Dodoo said the theme for the celebration is 'Women of Substance' – Proverbs 31: 10-31.
She said over the period of the celebration, the church's women's ministry met in the evenings to study the set chapter (Proverbs 31:10-31) adding they related it to real life situations which can help build their spiritual and physical lives.
Rev. Dodoo also appealed to women irrespective of their religion to set time aside to pray for Ghana especially that politicians will exercise a very high degree of tolerance for each other.
She pointed out that in the event of violence in a country, women and children will suffer the most.
In view of this, Ghanaian women especially commentators on radio and serial callers for political parties who phone in to radio stations should use their air time to talk peace, she advised.
 By Solomon Ofori