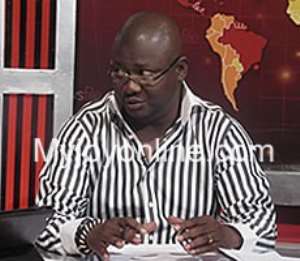 The Member of Parliament for Adenta Hon. Adu Asare has hit hard at former First Lady, Nana Konadu Agyemang-Rawlings accusing her of undermining the position and stature of former President Jerry John Rawlings.
According to the MP, who was speaking on Newsfile Saturday on Joy FM and Multi-TV, some party members who were wooed to join the NDC due to the ideals of Mr Rawlings are beginning to feel disappointed. He was commenting on Nana Konadu's claims of ownership of the party's logo.
"Some of us are beginning to feel very disappointed in her and I think the earlier we went blunt on some of these issues the better…some of us are in this party because we believed in the ideals of her husband.
"I have grown up to respect President Rawlings and I can consider him as one of my mentors…but in the last two years, I am beginning to feel disappointed and disconnected with the ideals that I thought or the very principles I thought he stood for," the MP stated.
Nana Konadu, he said, "...is undermining the position or the stature of President Rawlings that over the years have come to build some us or the motivation that he gave to some us to even get into politics."
Mrs Rawlings' battle over the ownership of the NDC logo, which Adu Asare described as unpalatable, "should not have surfaced at all at a time when the party was trying to woo electorate for the upcoming elections in December."
He noted that reports show the copyright for the logo of the party was done in 2010 when she, Nana Konadu was a Vice Chairperson of the party.
"What would have motivated her to register the logo in her name at that time? Why is it that nobody in the party was consulted at the time she was going to register and why is that she unilaterally did this registration?" he quizzed.
He said if the party has unquestionably used the logo in five elections and "someone appears with a copyright clandestinely acquired without anybody knowing about it…I think the laws of this country will exonerate the NDC because," the EC has accepted it as the property of the NDC.
Mr Adu Asare accused the Copyright Administrator who endorsed the documents that gave the rights of the logo to Nana Konadu of erring and questioned his competence. He also wondered why the administrator failed to ask "why is that you are the only person coming to register this without the consent of your party?"
The MP said he expected the former First Lady, whom he referred to as "our mother" to rather mentor her children to take after the leadership of her husband and warned that "people should not feel that without them life in Ghana can be truncated.
"Nothing can stop" President Mills from becoming president of Ghana for the second time, he maintained.