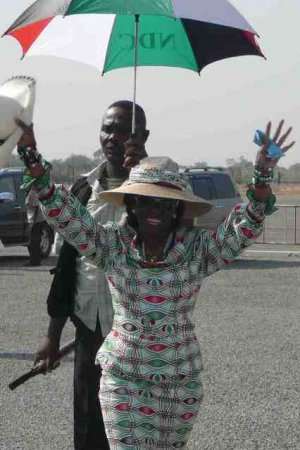 The former First Lady, Nana Konadu Agyeman-Rawlings has threatened to place a ban on the use of the NDC party's logo, the umbrella, if the party continues to disrespect her family, the founder and the values enshrined in the logo and the constitution for that matter.
In a letter written to the National Chairman of the NDC, Dr. Kwabena Adjei, by Nana Konadu's solicitors, it stated that "as you may be aware, our client holds the copyright to the political party logo being used by the NDC party as its registered political party symbol and known as the 'akatamanso' (umbrella).
"Our client's intellectual property rights in the said symbol were duly registered on the 12th of April 2010 under the Copyright Act (2005), Act 690."
According to the letter in the possession of Citifmonline.com, dated 7th May 2012, Nana Konadu gave her unhindered permission to the party to use the logo. She also reminded the party at its Sunyani Congress of "her exclusive intellectual property interests and particularly warned the party against the infringement of her exclusive moral rights in the logo stipulated under sections 6(a) and (b) of the Act."
Advertisement
The letter, however, said those rights Nana Konadu mentioned "are still being infringed upon by both party leadership both in their public utterances and deeds and thereby denigrating the symbolic value of the logo. Our client believes that those values were embodied in the vision of the founder of the party and subsequently enshrined in the constitution of the party.
"Our client further instructs that the said denigration of the logo has manifested in disrespect for the founder, the disunity of the party, the neglect of its egalitarian values, lack of accountability by key party leaders to the membership of the party and consequently in the disaffection of the rank and file.
"Our client therefore demands the immediate end to the continuous infringement and denigration of her exclusive intellectual property rights in the logo. That unless steps are taken by the party to that effect, our client will feel compelled to withdraw her permission for the use of the logo by the party," it read in part.
If the former first lady goes ahead with the threat, many have begun wondering what logo the NDC would use for the 2012 elections.
Citifmonline.com broke the news sometime back that the Rawlingses had declared their intentions of forming a new party to be called the 'National Democratic Party'.
By: Martin Asiedu-Dartey and Umaru Sanda Amadu/Citifmonline.com/Ghana