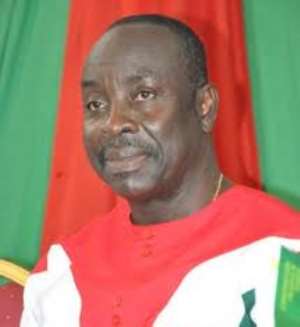 Accra, May 10, GNA – Mr Bright Akwetey, the Convention Peoples' Party (CPP) flag bearer aspirant, on Thursday spelt-out a blue print to re-brand the party and energize it to re-capture its past political glory.
Speaking to the Ghana News Agency in an interview in Accra Mr Akwetey said considering the crucial nature of Election 2012, as the CPP seeks to redeem its dwindling electoral fortunes, the party needed an action oriented blue print to hit the ground running after congress.
He said it had become imperative for the party to have a more experienced, committed and results-oriented flag bearer who could unite the members and marshal all the necessary resources, both human and material, to contest and make a strong impact in Election 2012.
Mr Akwetey said as a form of creating unity in the campaign structure of the party, his campaign team would be dissolved immediately after congress on May 13h to pave the way for the formation of a national campaign team in consultation with the Central Committee.
"We will set out modalities for the formation of national, regional and constituency campaign teams in consultation with Central Committee.
"In consultation with Central Committee, we will organise two capacity building workshops for regional executives – northern and southern sectors at a venue and date to be determined by the flag bearer and Central Committee," he said.
Mr Akwetey said to demonstrate his determination for the unity of the Nkrumaist political parties he would personally meet the Peoples National Convention's flag bearer by the end of May for them to deliberate on the unity pact.
He said other measures include revamping the party's structures from the polling station level through the electoral areas to constituency to the regional, strengthen the Communication Team and broaden its network.
Mr Akwetey said as the CPP Flag bearer: "I will create a platform for periodic dialogue with party executives across the country".
He therefore called on the CPP delegates to massively vote for him on Saturday as the flag bearer for Election 2012.
GNA