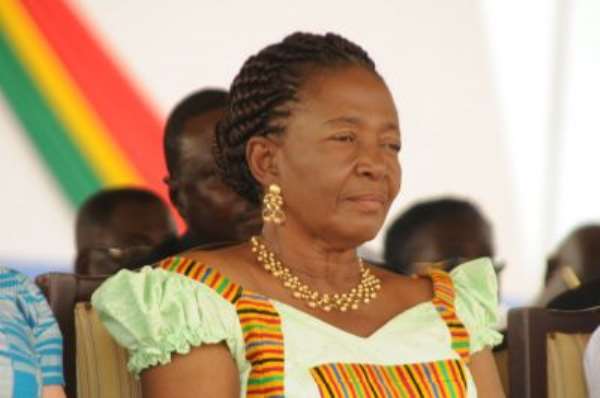 Accra , May 9, GNA – Mrs Ernestina Naadu Mills, the First Lady has called on Ghanaians to pray as the country head towards the polls in December to ensure peace before, during and after the exercise.
The First Lady made the call when she joined the congregation of the Calvary Presbyterian Church at Haatso in Accra to worship.
She advised the church to instill the culture of praying in their children and consider the country in their prayers as Election 2012 draws near.
The service, formed part of the inauguration of a new church complex. Mrs Naadu Mills unveiled the plague to officially open the complex.
The ultra modern edifice has the capacity to host hundreds of people at the same time.
Mrs Naadu Mills charged the congregation to surrender their lives to Christ if they have not done so and impart family values into their children.
She noted that the family is the biggest unit of the society.
Right Reverend Professor Emmanuel Martey, Moderator of the General Assembly of the Presbyterian Church of Ghana commended the First Lady for honouring the invitation of the mission.
He also expressed appreciation to the members of the Calvary Congregation for their contribution and support in putting up the complex for God's work.
Rt Rev Martey said working to facilitate the worshipping of God is a responsibility of all Christians which comes with a reward.
GNA