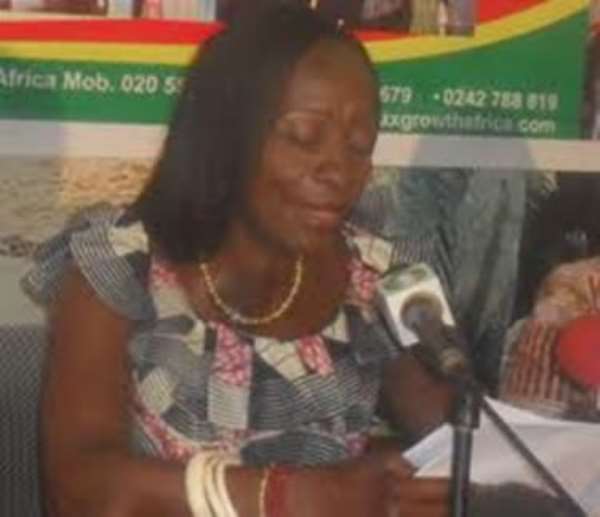 Minister for Environment, Science and Technology, Hon. Sherry Ayittey
A Nine-member committee has been constituted and its include both the Government of Ghana and Oxford International Biomedical venture of United Kingdom to see to the establishment of an Anti-Retroviral Drug Manufacturing Plant and its associated research and training centre in Ghana.
The committee is expected to conduct studies on the project as well as assist government find solutions to diseases in the country.
The aim of the project is to enhance Private-Public Partnership Venture between the Oxford International Biomedical Centre (OIBC) in the United Kingdom and the Government of Ghana. The Minister for Environment, Science and Technology, Hon. Sherry Ayittey recalled how government spent millions of dollars on the importation of anti-retroviral and anti-malaria drugs from India and China.
According to her, "most of these imported drugs are fake and detrimental to the health of citizens".
She added that "establishing a centre in Ghana to manufacture these drugs would reduce the cost of medical drugs importation into the country".
Ms. Sherry Ayittey also noted that the initiative which was a collaboration between her Ministry and the Ministry of Health formed part of the 'Better Ghana Agenda' to promote local production of key health commodities including pharmaceuticals and traditional medicines as enshrined in the Ghana Shared Growth and Development Agenda (GSGDA, 2010-2013). Hon. Ayittey enumerated technology transfer, employment generation, constant drug supply and affordability, curbing of fake drugs as well as the building of a training institute in the country as some of the benefits of the project.
"The building of the institute will enhance government's efforts of setting up the University of Medical and Allied Sciences in the Volta Region", the minister said.
In his remarks, the Director of OIBC, Paul Pattinson noted that the $200 million project sought to create a platform that would enhance capacity in science and technology to benefit the people of Ghana as well as the Economic Community of West African States (ECOWAS).He expressed the conviction that the institute would work with African scientists to stimulate students into the science sector and together create a vibrant pharmaceutical industry.
The committee which is chaired by Dr Alex Dodoo, a lecturer at the University of Ghana Medical School, who spoke on behalf of the committee indicated that the country was not safe if it was not able to manufacture its own drugs and vaccines.
"Let's put our differences aside and work hand in hand in the interest of the country for a better Ghana" he stressed.
Dr.Dodoo therefore gave the assurance that the members would put together their knowledge and resources as well as their experiences and skills acquired over the years to see to the implementation of the project.
BY JOSEPH NANA YAW COBBINA