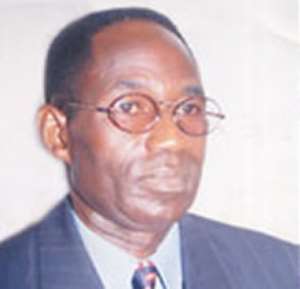 Accra, May 8, GNA - Mr Lee Ocran, Minister of Education, on Monday said that Government has identified human resource development as a national priority, and would invest in the sector, and also provide quality education.
He said Government would align education to the needs of society, enhance education through the improvement of teacher training and motivation, and support computerization, and science and technology.
The Minister said these at the Ghana Institute of Management and Public Education (GIMPA) golden jubilee international conference that was organised on the theme: 'Promoting Development Through Management and Institutional Capacity Building," in Accra on Monday.
The conference enable researchers, practitioners and educators, to discuss recent innovation, trends, experiences and concerns in development, in terms of key leadership, management and institutional capacity building.
Mr Ocran said the theme for the event was timely because the implementation of policies of some African countries was poor due to incompetence and lack of adequate capacity on the part of the implementers.
He said there was the need for Africa leaders to confront problems facing the people.
Mr Ocran said Government aimed at ensuring that no child was disadvantaged because of circumstances of birth, religion or geographical location.
He said for the past three years, the country had witnessed an increase in access to education because Government had pursued a good education policy.
Mr Ocran said there has been increase in the provision and improvement in infrastructure, supply of text books, computers and school uniforms, expansion of School Feeding Programme and the building of more schools, to solve the problem of organising classes under trees.
Mr Ocran said Africans needed hard working and visionary leaders, to strengthen and empower citizens and institutions of governance, to overcome the vicious cycle of illiteracy and poverty.
Dr Christina Amoako-Nuama, Chairman of GIMPA Council, said the institute, which was established in 1961, organised the conference as part of activities marking the year-long Golden Jubilee celebrations.
She noted that the mandate of GIMPA was to develop professional, competent and effective administrative machinery, to drive and execute government's development agenda in the immediate post-independence era.
Dr Amoako-Nuama said the conference, which was initiated as a platform for academic discourse, comprised of researchers, policy makers, and senior managers from the public and private sectors from West Africa countries.
She said more than 95 abstracts were received and 36 of the number had been developed into papers to be presented in the course of proceedings.
Dr Amoako-Nuama said exchanges in the conference would help improve the knowledge base of Africa, to enable the people to move their countries forward.
GNA