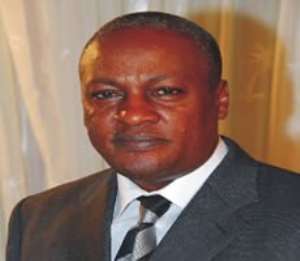 The New Patriotic Party is accusing Vice President John Mahama of stoking ethnic flames for political capital.
Veep John Mahama at a ceremony in the Volta Region to initiate a €40m Urban Management Project congratulated the chiefs and people of the Volta Region as well as Gas for restraining themselves in the face of provocative statements.
He was reacting to the New Patriotic Party Member of Parliament for Assin North, Kennedy Agyapong's comments on an Accra radio station deemed inflammatory and for which he has been hauled before court by the state on charges of terrorism, genocide and attempted treason.
"Thank you for your patience and tolerance," the Vice President told the people, assuring them that his government will ensure their safety as far as it remains in power.
John Mamaha said it will never happen that Ewes or Gas will be attacked by any group in the country, insisting the security agencies are alert and up to the task.
But his comments have angered the NPP who accused the Vice President of deliberately whipping up ethnic sentiments over an issue largely condemned by all, just to win political votes.
General Secretary of the NPP, Kwadwo Owusu Afriyie told Joy News' Evans Mensah the Vice President must be "ashamed of himself" for stoking an issue which is in court and dying a natural death.
He explained that Kennedy Agyapong's comments were unanimously condemned by all as intemperate, adding that bad as it was, it was not meant to pit Ashantis against Ewes and Gas.
Kwadwo Owusu Afriyie said since the comments were uttered, not a single hair has been removed or any bone broken for which reason the Vice President ought not to be reminding the people of the ethnic sentiments.
Advertisement
He said as a result of the statement Kennedy Agyapong is being prosecuted and the Vice President has no right to be making political capital of it.
In reaction however, spokesperson for the Vice President, John Jinapor said the criticism from the NPP is baseless.
He said if the NPP thought the issue was in court and dying a natural death, its flagbearer, Nana Akufo-Addo needn't have gone to the Volta Region to dissociate himself from the statement made by Kennedy Agyapong.
John Jinapor said John Mahama's message was to assure the chiefs and people of their safety and security, adding it was more reconciliatory than divisive.
Meanwhile, a political science lecturer at the University of Ghana Dr. Kpessah Whyte has told Joy News the intervention by the NPP was unfortunate.
He said it is the responsibility of the government to assure the people of their safety and the action by the Vice President was perfectly in place.
He equally commended the NPP flagbearer for taking the first step in assuring the people of the Volta Region.
He added it would have been "wiser for NPP to remain silent" on the Veep's comment so we concentrate on politics of issues.
He said by responding to the Vice President the "NPP is cutting its nose to spite its face."