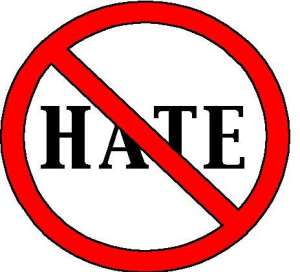 The reported intemperate speech by MP Kennedy Agyapong on April 13, 2012 (the case is in the court so there will be no comment) has brought the issue of hate to the fore of public discourse. We are joining in the discussion with the purpose of (a) directing attention to the price that some Ghanaians had paid for exhibiting hate towards one group or the other (b) advise those who believe that the display of macho- ism through brute force and intemperate speech as the hallmarks of manliness to desist from such behavior since they represent cowardice and (c)caution public officials to maintain the dignity and respect that come with their appointments.
The unfortunate "war" between the Konkomas and Nanumba in the 90s with its attendant loss of lives is recorded in our history books for all to read (there is no need to repeat) while for some time now there has not been any peace between the Kusasi and Mamprusi in Bawku. Economic activities in the area are virtually at a standstill while the government continues to spend millions of dollars in maintaining law and order and protecting live and property.
Nii Lante Vanderpuye's attempt to prevent persons with non-Ga names from registering in the Odododiodoo constituency for election purposes may be a problem for him in the future. He would be denied of a national appointment depending on who is offering it to him and who had to approve of it. Reference is made to the rejection of Frimpong-Manso (FM) as the Regional Minister of Ashanti in the Peoples National Party (PNP) Government of Dr. Hilla Limann (1979 - 1981). His offense was that during the agitation for the introduction of Union Government (Unigov) in Ghana he led some tugs in Kumasi to beat the hell out of "Akatakyiee" – students of Opoku Ware School (OWASS) - for daring to speak against the concept.
As a young man FM was given the position of Ashanti Regional Organizer/Director of the
Ghana Young Pioneers (a national youth movement) by President Nkrumah in the sixties. He served with distinction and earned a name for himself within the Convention Peoples Party (CPP). The PNP
("cousin" of CPP) Government of the late seventies found him more than qualified for a ministerial post but his nomination became a casualty of his own past deed. He was rejected by the parliamentary vetting committee by reference to his involvement in the OWASS incident.
Again in the nineties President Rawlings' nomination of Professor Kofi Awoonor (Kofi) as Ghana's foreign minister failed because it had been reported that he had written a book in which he supposedly made negative reference to Akans. (We have not read the book so we cannot comment on it). The Akan dominated minority led by Joseph Henry Mensah voted him down on grounds that he would not be fair to Akans. All who know Kofi testify to his academic brilliance, his unflinching support, and non-negotiable, unadulterated and deep seated love for Ghana. He had served as Ghana's Permanent Representative to the UN and distinguished himself as a seasoned diplomat. He was a perfect choice for that position.
We have been at odds to observe that persons who have been given opportunities to advance their political careers had squandered them away by engaging in loose talk, unnecessary deeds and behavior to the deterrent of others. One of the most important things credited to President Atta-Mills is his appointment of some youth into deputy ministerial and other responsible positions of authority. By this he followed the footsteps of yet another professor who held the prime ministerial position in Ghana, Professor Kofi Abrefa Busia, who appointed a twenty –nine year old, John Agyekum Kuffour (JAK), as Ghana's Deputy Minister of Foreign Affairs in his government (1969-1972) JAK went on from that position to become the President of Ghana (2001 – 2009)
We expected those who Professor Mills had appointed in his government to follow same. Incidentally we have been let down big time. The utterances of persons like Agyenim-Boateng, Kobby Acheampong, Fifi- Kettey, Ablakwa, Segbefia, Anyidoho and Dr. Hanna Bissiw (we prefer to call her Tachimantia Ahoofe) are nothing to write home about. Instead of handling their positions as national officers with all seriousness, they chose to respond to the distractions presented to them by the opposition New Patriotic Party (NPP) and engaged in self-destructive behavior. We wonder if anybody, after President Mills, would think of offering them responsible positions again. We believe they have performed more creditably in erroneously believing that they were promoting the agenda of either President Mills or the National Democratic Congress (NDC)
It must be noted that there is much difference between public office (we define public office for this write up as "appointed by the president") and a position in a political party. Any statement from either
Dr. Kwabena Adjei (NDC Chairman), Asiedu Nketia (NDC General Secretary) or Richard Quarshiga
(NDC Propaganda Secretary) does not carry the same weight as that coming from the public officials named above so far as all Ghanaians are concerned. The party officials would be viewed as peddling information for votes or sympathy while the public officials have the national power behind their actions and statements since they had been appointed by the president of the country who had the final say in all matters.
This probably explains why the police were reluctant to caution Nii Lante Vanderpuye (Presidential Aide)when he embarked on his unfortunate crusade in the biometric registration exercise in the Odododiodoo constituency but ACP Angwubutoge Awuni was quick to order the physical removal of Nii Armah Ashietey (a member of a Political Party ), NDC member of parliament for Klottey Korle Constituency and immediate past Greater Accra Regional minister, from a registration center when his behavior was not acceptable to him without stepping on anybody's foot. It is on the basis of this type of reasoning that presidents appoint persons who exhibit maturity, professional competence with the requisite experience and proven track record to positions of authority. This assertion is verifiable from the behavior of both the aged and youthful personnel who form President Atta-Mills Government.
We believe that if any of the public officials named above slip from public to party behavior the country would be at the lose end. The perception of both tension and the selective justice from the police in the country could be traced to this assertion. Hopefully, President Mills' assurance that none is above the law and IGP Tawiah's conviction that the police would be impartial in their duties would be interpreted as covering all public officials to bring some semblance of sanity into the system. The Ashanti region nearly went into constitutional crisis when a district chief executive (DCE) stormed the offices of his district police commander to demand the pictures of persons believed to be members of NDC macho-men who had misbehaved in a registration center. The report had it that the DCE slapped the police officer. If the police officer ordered his men to beat up the DCE, what would be the outcome? We are talking about the period of occurrence not after. The police officer in this case exercised some restrain.
We wish both the Government and the NDC (G & NDC) would learn to differentiate among diversionary tactics, distractions, impediments, provocation, desperation and frustration – methods that any responsible opposition party would adopt to get the Government to make mistakes so that they would look good in the eyes of the electorate. G & NDC are always quick to react to anything that NPP comes out with. Sometimes it pays to be quiet as in the Akan saying –opanyin due mante mante.
Probably Koku Anyidoho should have either ignored or poured cold water on Nana Addo's "all die be die" and monitored the situation on the ground instead of the threat he issued to him in London. In so doing the G & NDC fell into a trap set up by NPP for the biometric registration for Election 2012 as seen in Nii Lante Vanderpuye's behavior in the Odododiodoo Constituency, the physical assault of woman called Ursula Owusu, the arrest and incarceration of Nii Ashietey, the shooting of a twelve year-old boy at Ofoase-Kokoben by an NDC operative and the near altercation between a DCE and a police officer – all because of the suspicion that NPP would implement the 'all die be die' clarion call. Both Presidents Rawlings and JAK undertook electoral registration exercise during their reign without any incident. Why should it be different under President Atta-Mills?
It could be seen throughout this write up that we have been bias towards the NDC with some flash references to NPP where appropriate. This is for one and only one reason –based on the Akan saying that 'paynin a watena fie ama nkwadaa awe nanka no yeebu nanka wefuo a okaho bi'. NDC is the party in power if anything happens in the country – positive or negative they will be held responsible. The elderly is admonished (yetu paynin fo).
Opanin Kwabena Mensah