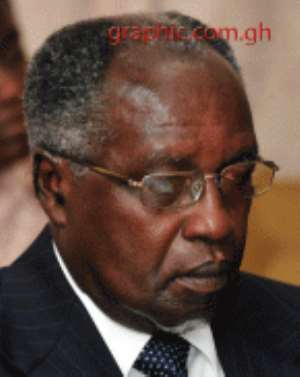 Prof Addae Mensah - Chairman of Petroleum Commission The actual cost of producing a barrel of oil on the Jubilee Field is still unknown, the Director of the Kumasi Institute for Technology Energy and Environment (KITE), Mr Ishmael Edjekumhene has disclosed.
Mr Edjekumhene said the Ghana National Petroleum Corporation (GNPC) appeared unwilling to give information on the actual cost of producing a barrel of oil on the Jubilee Field, leaving the Ghana Revenue Authority (GRA) to wait on oil companies to furnish it with details of the cost component.
Speaking at the launch of a Petroleum Revenue Assessment Model (PRAM), a module devised by the KITE to monitor operations in the petroleum sector, in Accra, he said KITE's pursuit of information from the Jubilee field and its stakeholders to test the PRAM yielded no results as neither side was willing to assist it with the necessary information.
He observed that in line with the Petroleum Revenue Management Law (Act 815), 2011, it was essential for information to be released regularly and accurately to foster transparent management of petroleum revenues.
"KITE's decision to develop the assessment model is underpinned by the government's commitment to ensure transparency in the management of oil and gas revenue," he said.
The model is to provide non-state actors such as civil society organisations with a tool to be used in auditing and authenticating petroleum revenues declared by the government.
Mr Edjekumhene was thus confident that the PRAM would help non-technical stakeholders in the emerging oil and gas sector to ask managers of the oil revenues relevant questions as well as "deepen transparency and accountability in the management of petroleum revenues in Ghana."
The KITE director, however, noted that the model "is not a revenue forecasting tool; it is not to be used to track budget expenditure. What we have to do is to use this information to ask our duty-bearers to explain discrepancies in figures put out there".