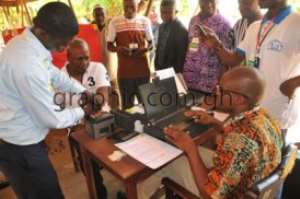 A member of the Council of State for the Volta Region, Dr Bernard Glover, has observed that everything seemed to be going smooth with the ongoing Biometric Voters Registration exercise, with minimum obstacles encountered in the processes.
"On the whole, the people have shown great enthusiasm and I am impressed", he said.
He, however, said reported cases of the breakdown of machines at some centres could contribute to unfulfilled targets in those areas.
Dr Glover, who monitored a number of registration centres in the southern sector of the region, told the "Daily Graphic" in Ho that there was peace at all the centres and that no negative report on harassment had been reported to him.
He said some people were allegedly disappointed and disillusioned through the breakdown of machines and had vowed not to join long queues again and expressed the hope that such people would reconsider their stand to come back to register before the close of registration on Saturday.
Dr Glover, who started the tour from the South -Tongu through Adidome, Ho, Adaklu-Anyigbe, Ketu-South, Ketu -North, Akatsi and Keta districts and municipalities, moved through towns such as Adidome, Mafi- Kumasi, Sogakope, Ho, Agotime-Kpetoe, Denu, Akatsi and Keta.
Dr Glover, who was accompanied by the South Tongu Constituency Chairman of the National Democratic Congress(NDC), Mr Raphael Kuvi, said it was necessary for them to monitor the exercise on the ground in order to be well informed to be able to advise for an extension of time or not.