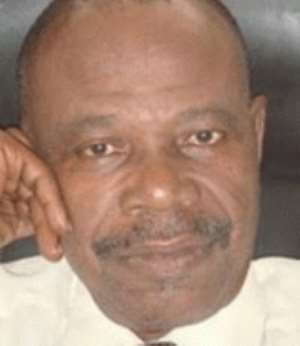 George Ayisi-Boateng - founding Member of NPP The Ashanti Regional branch of the New Patriotic Party (NPP) had condemned "the senseless violence" that had characterised the biometric registration in the region.
It said the political image of the region had been dented by reports that put the region as topping the list of reported cases of violence and intimidation.
At a news conference organised by the party in Kumasi last Friday, a founding member of the party, Mr George Ayisi-Boateng, accused the NDC of being the main characters behind the destructive image of the region.
He said since the biometric registration commenced on March 24, 2012, "hired thugs" of the NDC had visited violence on registration officials and violently disrupted the exercise in a number of areas.
He mentioned Suame, Subin, Asokwa, Adansi Akrofuom and Offinso North constituencies as some of the areas that had suffered disturbances.
Mr Ayisi-Boateng said in all these the regional and district security councils were silent and inactive even though the perpetrators were known to them.
The NPP founding member said even though REGSEC, at a meeting at the Regional Coordinating Council with political parties, pledged to give the people of the region maximum security during the exercise, they woefully failed to carry the promise through.
Mr Ayisi-Boateng stated that when the second and third phases of the registration exercise witnessed some appreciable decline in violence, the general belief was that the situation was going to be same in the final phase.
However, what is happening in the last phase is a "disgrace" to Ghana's democratic process.
According to Mr Ayisi-Boateng, thugs parading in the colours of the NDC were going round causing mayhem at some registration centres.
He mentioned the most serious one that happened at Kronom SDA registration centres during which registration kits were destroyed.
The most disturbing aspect of the incident was that when two party agents were arrested, the regional leadership of the party quickly went to bail them at the police station.
He urged the police leadership in the region to act professionally in apprehending the hoodlums who undertook the "shameful " act.
Mr Ayisi-Boateng assured the people of the region that the party was bent on "protecting and defending you" by all legitimate means and that no one should be intimidated into not registering.