May 4, 2012
|
Business & Finance
Promoting African Prints Is My Passion - Ms Simpson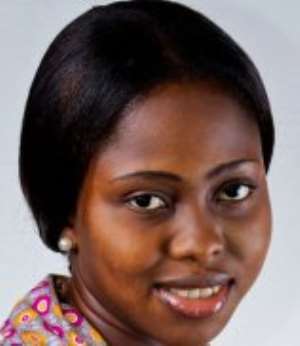 Ms Mabel Simpson - CEO of mSimps With a passion to be innovative and creative, while bringing the African style in vogue, Ms Mabel Simpson, a graduate from the Kwame Nkrumah University of Science and Technology set up mSimps to use local fabrics to design fashion accessories for both Ghanaians and foreigners.
These accessories which includes handbags, clutch purses, male and female slippers, as well as laptop bags and sleeves is meant to give an African touch to fashion on a daily basis and not necessarily wait for Fridays before one can dress the African way.
Speaking in an interview with the GRAPHIC BUSINESS, the Chief Executive Officer of mSimps said her fashion house was mainly to promote African prints and offer something which was of high quality to Ghanaians who are normally skeptical about patronising made in Ghana goods.
The company, she said is currently making headway in its business through its outlets in Ghana as well as going international with her supplies in Nigeria, the United States of America and the United Kingdom.
How mSIMPS started
Ms Simpson said with her Communication Design and Visual Arts background she decided to veer off working in offices and start up something on her own which will bring her talent to bear.
She said upon realising there was no passion for African stuff, she decided to set up her fashion house to provide trendy fashion accessories with superior quality to satisfy all market segments with emphasis on chic designing, cost control and customer relations.
"I decided to continue with what I learnt in school to bring something innovative and promote quality goods for the Ghanaian market," she said.
She also explained that she decided to use local prints to design her accessories as a means of promoting African fabrics hence her resolution to use local brands like GTP, ATL, Woodin and Da Viva.
Defying all odds and challenges associated with venturing into a new area, she however remained resolute to do something with her small capital and according to her, her business has expanded so rapidly that she now employs three people to help her in the business.
She said she started mSimps with only the designing of bags but two years down the lane, her product line has expanded to include clutch purses, laptop bags and sleeves as well as slippers for both sexes.
mSimps, since its inception unto the Ghanaian market in August 2010 has been providing quality and trendy accessories for people at an affordable price while maintaining its high quality.
How mSIMPS is surviving
Ms Simpson explained that despite the challenges that the companies face with regards to an inconsistent supply of raw materials, limited financial resources and most Ghanaians being skeptical about buying locally made goods, the company gets significant results for its efforts.
Ms Simpson said the company was gradually making strides in the fashion industry as a result of its focus on quality, good branding as well as good customer relations and the use of the social media to promote her brand.
According to her, it takes both personal and financial discipline to grow a business and that has always been here benchmark which keeps her and the company going.
She said most of the purchases are done through the social media - the facebook and twitter page or through its delivery outlets which are are located in Osu and Dome.
With a dream to go international, she said she currently makes deliveries to Nigeria, The United States of America and the United Kingdom which she hopes to extend to other parts of the world very soon.
Her company, she said has participated in various shows like the Virgin Atlantic First Anniversary celebration, KOD 1957 launch, My Business 2011 by Joy FM as well as the UT Bank and Enablis business launchpad awards.
Looking ahead
Projecting into the future, Ms Mabel Simpson said she hopes to go international with her brands as well as open more outlets in the country as well as other West African States.
She also assures her clients of improved quality and better services as well as the addition of new fashion varieties to her product lines to meet international standards.
The mSimps CEO believes that with determination, hard work and faith in God one can move on to higher laurels in life and advices other women to do innovative things no matter how small the start may be.
"It really feels good to own your own company and have a flourishing business, my advice to my fellow women is to develop their dreams and be innovative in everything they do. Financial and self discipline is key for the growth of any business," she said.
Ms Mabel Simpson can be contacted at [email protected]
graphic.com.gh