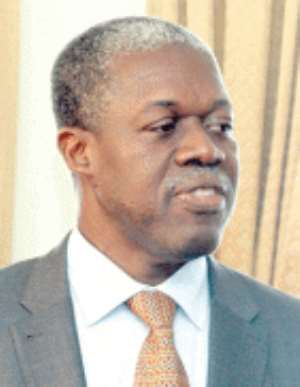 Dr Amissah Arthur - Governor of BoG The Bank of Ghana will float a five year bond to pay for maturing debts and financing of ongoing infrastructure projects across the country.
This is contained in a Calendar for Government Securities published on the website of the Bank of Ghana. This will be the second bond issue for this year after the February three-year bond. The floatation comes at a time of lingering concerns of currency volatility and nervousness ahead of the December polls.
Though the auction is open to local and foreign investors, analysts have described the bond sale as a kite to gauge the level of investor confidence in the country.
But Head of Treasury of the Bank of Ghana, Mr Nyinaku Adams disagrees. He told the Graphic Business in an interview that the bond sale had been planned long before the cedi took a nose dive.
"You see that there are some infrastructure projects going on across the country and we have to pay for them that is why we are auctioning these bonds", he said.
"Some of the bonds we also issued some time back have matured and so we have to pay for them", he added.
But currency depreciation has heightened fears that offshore investors to be wary of Ghana's secondary market ahead of the elections in December. This they say is likely to see a lower demand by foreign investors in the five year bond.
Head of Research at Databank, Nii Ampa Sowa agrees. 'I think there are more opportunities now coming up across the region and considering that offshore investors already have substantial exposure to Ghana, they may have a low appetite to add to their current exposure.'
'I don't see offshore investors participating in a very big way, especially with the concerns for the currency,' he added.
'We've seen the exchange rate being very volatile at the beginning of the year and some attempts to cool things down but I think the medium to long term management of the currency is what investors could be looking at.'
Mr Sowa, believes the only the Bank of Ghana could lure both local and offshore investors into the market would be to increase the coupon rate to about 18 per cent.
Foreign investors have dominated almost every sale of three- and five-year bonds in Ghana since the auctions were opened up to non-residents in 2006. However, they were largely absent from the last two bond sales of 2011, a year in which the local currency fell by 10 per cent against the dollar.
But higher yields elsewhere in Africa, such as Kenya and Uganda, and the risk of government overspending in the run-up to the polls could dampen foreign enthusiasm for Ghana's bond.
In February this year, the Bank of Ghana floated a GH¢200 million cedi ($117.6 million) three-year bond, which was heavily oversubscribed, and it accepted GH¢219 million cedis of bids at a yield of 14.99 per cent.
The Bank received GH¢639 million cedis in bids and 169 million cedis worth of accepted bids were from offshore investors, Mr Nyinaku, the Central Bank's head of treasury, said in an interview.
The bond sale, Ghana's first auction of 2012 open to offshore investors, had been seen as a test of foreign appetite in Ghana during an election year.
But the Executive Director of the Centre for Policy Analysis Dr Joe Abbey, this time again the GH¢200 million five year bond to be floated in June will be oversubscribed.
"I think we are only speculating loudly on how investors will react to the market dynamics and this is not sending the right signals", he said.
Ghana's relative stability and developing oil industry have made it a favourite with foreign investors but currency weakness and general risk aversion related to the euro zone debt crisis undermined demand for its debt late last year.
The December polls has raised questions about public spending this year, although the government of President John Atta Mills, who is seeking a second term, has set a budget deficit target of 5.1 per cent of GDP for 2012.
In 2008, heavy pre-election spending caused Ghana's fiscal deficit to balloon to 14.5 per cent of GDP, from nine per cent of GDP in 2007, according to the International Monetary Fund.
graphic.com.gh