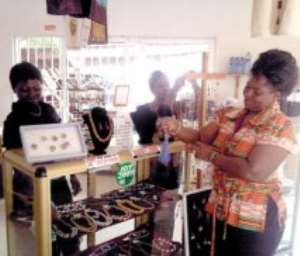 Mrs Yvette Kporjroh admiring some of her artifacts displayed in her showroom Beads are like magic pearls that beautify every neck, wrist, ankle or the waist. To a Krobo woman, they are a way of life.
The uniqueness of beads and their agility in adding colour and meaning to modern fashion, have created a burgeoning market for the piece of Ghanaian jewelry.
Beads making has consequently found its rightful place in the creative industry and many businesses are springing up around it.
Belwik Art Enterprise is one such endeavours which was founded out of an overriding impetus of the owner to contribute to the arts and culture in Ghana.
This crave to follow her passion, compelled Mrs Yvette Kporjroh to make a dramatic switch of jobs from where she had originally received training to a completely different world of endeavour.
Prior to establishing Belwik Art Enterprise for beads designing, batik making and wood polishing, Yvette worked as a telephonist at the National Theatre, Accra.
But her passion for the creative industry soon overrun her love for the telephone, forcing her to part ways with her employer in 2006 to take up training in the business from a friend.
She told the GRAPHIC BUSINESS that such a decision was to enable her live her dream of venturing into the handicraft. The fruits of that six-year-old decision have been the thriving Belwik Art Enterprise which does beads design, artifacts and produces nice crafts of batik for people of strata in Accra and beyond.
The business also trains interested persons in the various areas that it operates in.
However, since the business survives on frequent capital injection, Mrs Kporjroh said inadequate working capital was one of the challenges facing Belwik Enterprise.
"The demand has been very good but our only challenge is the injection of working capital to finance an expansion to meet the growing demand," she told the GRAPHIC BUSINESS.
She further explained that "I sometimes go to shows and people express interest in my products but I become stuck since I don't have money to produce for them."
According to her, for the fear of getting drowned with high interest rates, Mrs Kporjroh she has never attempted to go for loans from any financial institution in the country although she would have wished to access more funds to expand her business.
"The interest rates are high and that is scaring me from going for a loan from the banks. If I should go for a loan and I'm not able to pay for it, what do I do," she asked.
Another challenge for her business is the high rent charged for exhibition space at fairs and the general expensive nature of attending fairs to give the needed exposure to the products outside the country as some of the difficulties plaguing not only his company but the creative industry as a whole.
In spite of the challenges, Mrs. Kporjroh sees a brighter future for the handicraft industry, as Belwik Enterprise had so far been a great success.
"It has exposed me. People know me and they call me to work for them. I have also travelled to many countries including Zambia, Nigeria, Burkina Faso, Sierra Leone, Gambia, Benin, Togo and Cote d'Ivoire. I hope to exhibit my goods in Europe soon," elated Yvette told the GRAPHIC BUSINESS with beaming smiles.
In an attempt to give back to the society Belwik Enterprise started an initiative in 2009 to train women in the areas of operations to "enable me to empower others so that they become independent and create wealth for themselves."
Her application for support from the National Commission on Culture yielded fruits as the commission granted her GH¢5,000.
According to Yvette, she used the funds to purchase training equipment for her workshop.
Belwik currently employs four ladies but has the capacity to increase the intake provided she could scale up her capital and expand the workshop.
She expressed the frustration that although the venture could employ more hands, the lack of space and finance was stalling expansion and employment generation.
Sharing her experiences on Ghana's creative industry, she said "Ghanaian products are unique. People show interest at all times when you go to fairs. But mostly, due to financial constraints we go with small goods and even when people are ready to buy we don't have enough."
Mrs Kporjroh appealed for support in the area of finance, promotion and marketing opportunities, an endeavour the Ghana Export Promotion Authority (GEPA) has been performing on a small scale within its resource limitations.
While commending the GEPA for supporting the creative industry, Mrs Kporjroh appealed for more of such support and collaboration with the industry even when there were no exhibitions.
She also wants the government and other stakeholders of the sector to direct more funds and support to make the sector more vibrant as it was an avenue for employment creation.
A mother of four, Mrs Kporjroh says she enjoys training others, particularly young females, in such employable and innovative skills.
As a result, she said, her outfit wants to set up a training institute to train more people in creative designs.
Graphic.com.gh