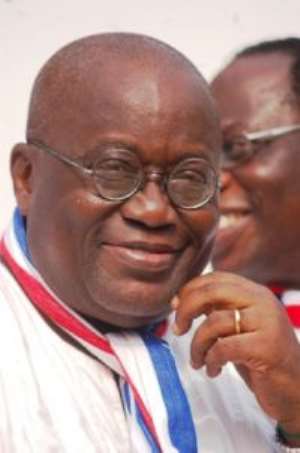 Nana Addo Dankwa Akufo-Addo, presidential candidate of the New Patriotic Party, yesterday called on Ghanaian workers of all categories to "stay faithful to the Ghanaian enterprise", while hoping for a brighter future, as the NPP positions itself to form the next government, to build "a society of aspirations and opportunities for the Ghanaian people."
 
Nana Addo gave the assurance that "the NPP is committed to providing a competent, progressive leadership that will bring about the transformation of our national economy, driven by Ghanaians for the good of Ghanaians."
 
In a May Day message issued on his behalf and the NPP, the presidential candidate noted that it is through rapid industrialization and value-addition that the nation's economy could create the needed pool of decent jobs with decent pay to enhance the dignity of Ghanaian labour.
 
Nana Addo expressed the determination of the NPP to forge a partnership with the working people and the private sector to achieve this goal "so that the concerns of labour for decent work, i.e. good jobs with good pay, strong health and safety regulations, can be satisfactorily addressed."
 
"Our message on Workers' Day to the anxious Ghanaian workforce is this: stay faithful to the Ghanaian enterprise. There is a brighter future ahead of you. The NPP is resolute in its commitment to building a society of aspirations and opportunities for the Ghanaian people," he assured.
 
The message expressed gratitude to all Ghanaian workers, both in the formal and informal sectors, for their hard work and patriotic contribution towards Ghana's development over the years, while encouraging all workers to continue to work hard for the development of the nation
 
"On this festive day for working people, we in the NPP salute you and wish you God's blessing. We have to remember that it is only by the hard work of all of us that we can build the Ghana of our dreams," Nana Addo added.
 
With this year's May Day celebration taking place at a time the country is preparing for elections in December, the NPP flagbearer reminded Ghanaians about some of the challenges confronting the nation.
 
He mentioned the lack of jobs, high cost of living, high cost of doing business, high cost of education, high cost of accommodation and lack of access to healthcare, adding: "These are some of the issues that must engage the attention of the Ghanaian people."
 
Nana Addo stressed the need for all to join hands to ensure that this year's election "is primarily a competition of ideas and solutions to the problems facing our people," adding:   "Let us make this an election the results of which will respond to the aspirations of the youth of Ghana."
 
He gave the assurance that the NPP would make the security and unity of the country crucial in all its activities, appealing to all "to say and do things that will keep our politics healthy, clean, and constructive."
 
Nana Addo added that the NPP would always be committed to maintaining a safe and peaceful environment "necessary for the progressive programmes and policies that we have for the people of Ghana."
 
Maintaining law and order, Nana Addo noted, is key to securing the kind of peace and unity the nation needs, stressing the need for all to encourage those tasked to do so, to do so professionally without fear or favour.
 
He added: "The triumph of the rule of law is what will fortify our prospects of building a prosperous, fair and just Ghanaian society."