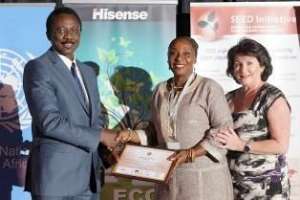 Five start-up entrepreneurs from Ghana have received the prestigious SEED Award, founded by the United Nations Environment Programme (UNEP), the United Nations Development Programme (UNDP) and the International Union for Conservation of Nature (IUCN).
These initiatives were selected from over 450 applications originating from 75 countries worldwide because of their innovation, their potential to scale up, and their ability to simultaneously create economic, social and environmental benefits and therefore to help meet sustainable development challenges in Ghana.
The five winners were celebrated, together with 30 other SEED Winners, at an International Awards Ceremony in South Africa, following the SEED Green Economy Symposium.
Attended by representatives from the United Nations, government, business, civil society and academia, the five initiatives received their certificates from Mounkaila Goumandakoye, Regional Director, UNEP Regional Office for Africa and were congratulated by Lucy Morassutti, National Sales Director for Hisense, South Africa, SEED's corporate sponsor of the awards ceremony.
The event generated wide recognition of the five initiatives and drew attention to their products and to their needs.
Helen Marquard, Executive Director of the SEED Initiative, said: "The International Awards Ceremony for the SEED Winners is a celebration of the achievements of these innovative and visionary entrepreneurs. It is also a platform to showcase the SEED Winners nationally and internationally and so help them to find new partners, especially national institutions and organisations who could support them in growing further".
All SEED Winners receive a tailored package of support which includes assistance with business and financial planning; access to relevant expertise and technical assistance; a one-to-one management-focused workshop and an introduction to potential new partners and networks.
In addition, SEED makes a financial contribution towards the initiative's most urgent needs.
The SEED International Jury selected the following initiatives:
- "Waste Enterprisers" has developed innovative ways of reusing human waste with the aim of improving sanitation services for the poor and restructuring the economics of sanitation in developing countries. Drawing on technical support from local and international universities and working with the local municipality, the venture plans to turn faecal sludge into biodiesel, and to dry it and use it as boiler fuel. Wastewater is also being treated for use in ponds to allow fish farming which can provide additional income generation.
- "Recycle Not A Waste Initiative - RECNOWA" trains and employs street youth from disadvantaged communities to clear their streets of plastic and other material waste and uses the creative talents of Ghanaian artisans to transform them into handmade designer products such as bags, jewellery, footwear, furniture and home décor that are ethically produced and eco-friendly.
- "Man and Man Enterprise" and its business partners create employment by producing biomass-fuelled cooking stoves made from scrap metals, substituting for conventional charcoal-fuelled stoves that cause harmful emissions and health problems and contribute to deforestation.
- "Bamboo substitute for timber: new livelihoods for rural communities in Ghana" This initiative works on the full bamboo value chain from reforestation to production and marketing of substitutes for timber products, creating alternative sources of income for rural communities. The approach further relieves pressure on forests by inter-cropping plantations with food crops to prevent forest clearance for agricultural production.
- "Rural Transportation and Renewable Products Conversion Centres for Agro-residues" This initiative works to establish an innovative shared-infrastructure service for rural farmers, providing cargo bikes for the collection of crops as well as agro-residues which are converted to renewable energy sources such as biochar, charcoal and biofuels in a facility also set up by the initiative.
The SEED Initiative identifies and supports promising small scale social and environmental entrepreneurs around the globe, entrepreneurs that while working towards a greener economy also tackle poverty, marginalisation and social exclusion.
SEED provides these social entrepreneurs with knowhow and networks, taking the lessons learnt at local level up to decision-makers to promote evidence-based policy making.
Story by Kofi Adu Domfeh/Luv Fm/Ghana