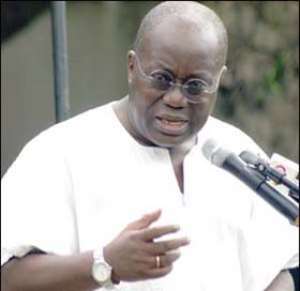 The New Patriotic Party's presidential candidate, Nana Addo Dankwa Akufo-Addo has called on President J.E.A. Mills to act as a responsible leader in the run up to the December general elections.
According to the NPP flag-bearer, ultimate responsibility rests on President Mills to ensure that politics in Ghana is devoid of insults and rather focused on issues.
He was speaking to  Joy FM's  Sammy Darko in an interview a day after Dr. Bawumia's diagnosis of Ghana's economy.
Said Nana Addo, 'Let the president show the way as to his desire for the politics of issues and discussions and the rest of us will follow.'
Nana Addo questioned President Mills' commitment to free and fair elections when the biometric registration has been characterized by pockets of violence. 'Is that the free and fair elections we are going to have that we have seen in the registration?' Nana Addo quizzed.
The presidential aspirant also took a swipe at the police over the recent biometric registration violence, saying '…The police who stand-by and watch women brutalized by members of the NDC without lifting a finger only to be told that Ursula Owusu was at the wrong place at the wrong time, is that the atmosphere we want for free and fair elections in our country?'
According to Nana Addo, the instruments of law and order are in the hands of the president. If he tells them to do their duty without fear or favour we will have law and order in our country.
Nana Addo, however, declined to comment on the alleged treasonable comments made by the NPP MP for Assin North, Kennedy Agyapong, adding that the matter is before court and would not be appropriate to make any comments.
Source: Myjoyonline.com/Richard Nii Abbey